Novel mixed hemimicelles based on nonionic surfactant–imidazolium ionic liquid and magnetic halloysite nanotubes as efficient approach for analytical determination
Abstract
The co-adsorption of mixed nonionic surfactant and imidazolium-based ionic liquid, Triton X100 (TX100), with 1-cetyl-3-methylimidazolium bromide (C16mimBr) adsorbed onto the surface of magnetic halloysite nanotubes (MHNTs) was used as an efficient adsorbent for simultaneous determination of amlodipine and nimodipine in urine. The designed adsorbent was characterized by TEM, TGA, FTIR, and DLS analysis methods. All the parameters that influence the extraction efficiency are optimized with the aid of response surface methodology (RSM). The effects of nonionic surfactant TX100 with different structures of ionic-liquid-coated MHNTs were investigated. Under optimum conditions, extraction recoveries of amlodipine and nimodipine were in the range of 73.8–81.2 and 94.3–96.1%, with RSDs (n = 3) of 2.6–5.5% in spiked urine samples, respectively. The adsorption mechanism principal of mixed hemimicelles was discussed in this study. The limit of detection obtained for analytes was < 0.002 μg·mL−1. To our knowledge, this was the first attempt using a mixed hemimicelle solid-phase extraction (SPE) based on MHNTs and nonionic surfactant and imidazolium-based ionic liquid for the simultaneous determination of amlodipine and nimodipine in biological samples.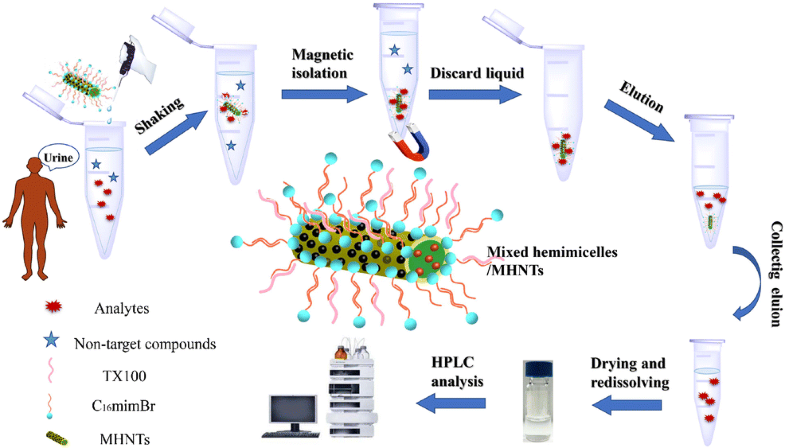 Keywords
Mixed hemimicelles 
Magnetic halloysite nanotube 
Amlodipine 
Nimodipine, Triton X100 
Notes
Acknowledgments
This work was financially supported by Independent innovation fund project of agricultural science and technology of Jiangsu Province in 2017 (No. CX(17)1003), Guizhou Provincial Science and Technology Department Joint Fund Project (Qian Kehe LH word [2016] No. 7076), the Project Funded by Research Project of Environment Protection Department of Jiangsu Province (Grant No. 2015026), and Chinese College Students Innovation Project for the R&D of Novel Drugs (No. 201810316242).
Compliance with ethical standards
Conflict of interest
The authors declare that they have no conflict of interest.
Ethical approval
Informed consent was obtained for any experimentation with human subjects. All experiments were performed in compliance with the relevant laws and institutional guidelines. Ethical approval for this investigation was obtained from the Research Ethics Committee, China pharmaceutical University School of Medicine.
Copyright information
© Springer-Verlag GmbH Germany, part of Springer Nature 2018