Binding properties of broad-specific monoclonal antibodies against three organophosphorus pesticides by a direct surface plasmon resonance immunosensor
Abstract
In this study, heterologous indirect competitive enzyme-linked immunosorbent assay (icELISA) was introduced into the screening of hybridomas for the development of broad-specific monoclonal antibodies (mAbs) against organophosphorus (OP) pesticides. After immunization, two formats of icELISA based on the homologous hapten antigen and four heterologous hapten antigens were conducted for hybridoma screening. Two mAbs 2G6 and 7B2 with good recognition toward three OP pesticides (parathion, methyl-parathion, and fenitrothion) were produced. Results of the icELISA showed that the two mAbs exhibited high sensitivity against three OP pesticides, with IC50 ranging from 2.93 to 19.71 ng mL−1. Moreover, a non-competitive surface plasmon resonance (SPR) immunosensor was used for characterizing the binding properties of the mAbs to OP pesticides. After kinetic analysis, equilibrium dissociation constant (KD) values of mAbs 2G6 and 7B2 were calculated as 1.45 × 10−9 M and 4.26 × 10−9 M for parathion, 6.75 × 10−9 M and 4.17 × 10−9 M for methyl-parathion, and 2.44 × 10−8 M and 1.19 × 10−8 M for fenitrothion, respectively. Whereas, both icELISA and SPR-based immunoassay indicated that the two mAbs could not recognize other five OP analogs. Since SPR-based immunoassay provides comprehensive information of two molecules directly interacting with each other, it is a valuable tool during the development and characterization of broad-specific mAbs.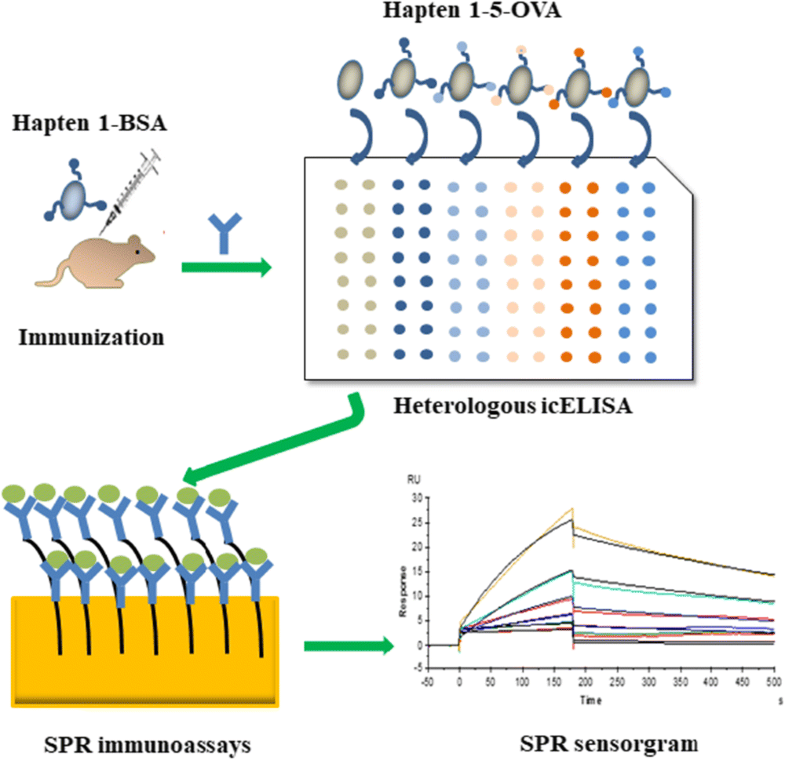 Keywords
OP pesticides 
Heterologous icELISA 
SPR immunosensor 
Broad-specific mAb 
Notes
Acknowledgements
This study was financially supported by National Key R&D Program of China (2017YFF0210200 and 2016YFD0201302) and the Agricultural Project for Public Technology Research in Zhejiang Province (2016C32004).
Compliance with ethical standards
All studies on mice were performed under the guidance of the animal welfare committee of Zhejiang University in China.
Conflict of interests
The authors have declared no conflict of interests.
Copyright information
© Springer-Verlag GmbH Germany, part of Springer Nature 2018