A sample-in-digital-answer-out system for rapid detection and quantitation of infectious pathogens in bodily fluids
Part of the following topical collections:
Abstract
A variety of automated sample-in-answer-out systems for in vitro molecular diagnostics have been presented and even commercialized. Although efficient in operation, they are incapable of quantifying targets, since quantitation based on analog analytical methods (via standard curve analysis) is complex, expensive, and challenging. To address this issue, herein, we describe an integrated sample-in-digital-answer-out (SIDAO) diagnostic system incorporating DNA extraction and digital recombinase polymerase amplification, which enables rapid and quantitative nucleic acid analysis from bodily fluids within a disposable cartridge. Inside the cartridge, reagents are pre-stored in sterilized tubes, with an automated pipetting module allowing facile liquid transfer. For digital analysis, we fabricate a simple, single-layer polydimethylsiloxane microfluidic device and develop a novel and simple sample compartmentalization strategy. Sample solution is partitioned into an array of 40,044 fL-volume microwells by sealing the microfluidic device through the application of mechanical pressure. The entire analysis is performed in a portable, fully automated instrument. We evaluate the quantitative capabilities of the system by analyzing Mycobacterium tuberculosis genomic DNA from both spiked saliva and serum samples, and demonstrate excellent analytical accuracy and specificity. This SIDAO system provides a promising diagnostic platform for quantitative nucleic acid testing at the point-of-care.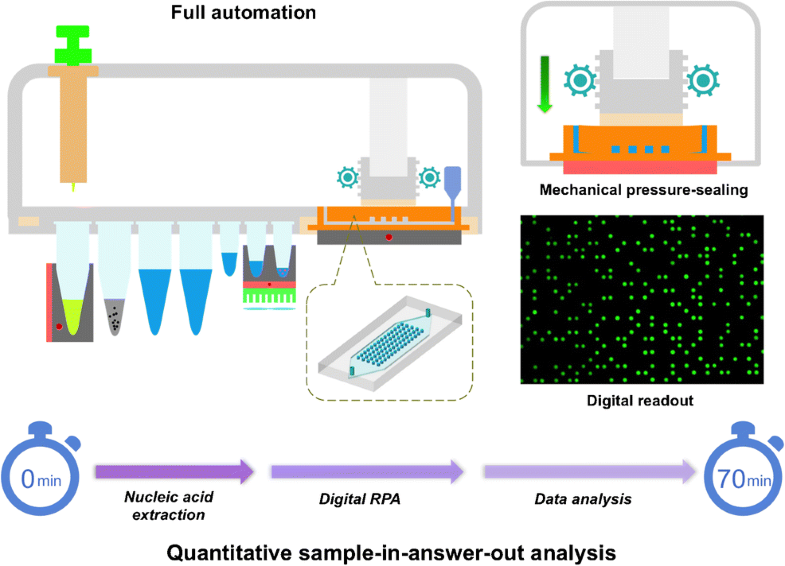 Keywords
Sample-in-answer-out 
Microfluidics 
Quantitation 
Digital RPA 
Molecular diagnostics 
Tuberculosis 
Notes
Acknowledgments
This work was supported by the Swiss Federal Institute of Technology (ETH Zürich), the National Research Foundation of Korea (Grant Nos. 2008-0061891 and 2009-00426), the National Natural Science Foundation of China (Grant No. 61527806), the Hunan Key Research Project (Grant No. 2017SK2174), and the China Postdoctoral Science Foundation (Grant No. 2018M630498). P.D.H. acknowledges support from European Union's Horizon 2020 research and innovation program through the Individual Marie Skłodowska-Curie Fellowship "Ampidots" under grant agreement no. 701994.
Compliance with ethical standards
The studies described herein were approved by Nanjing Drum Tower Hospital Clinical Research Ethics Committee, and have been performed in accordance with ethical standards. Informed consent was obtained from all participants.
Conflict of interest
The authors declare that they have no conflict of interest.
Copyright information
© Springer-Verlag GmbH Germany, part of Springer Nature 2018