Imaging of growth factors on a human tooth root canal by surface-enhanced Raman spectroscopy
Abstract
Endodontic treatment of immature permanent teeth with necrotic pulp poses several clinical challenges and is one of the most demanding interventions in endodontics. Recently, with new discoveries in the field of tissue engineering, novel treatment protocols have been established. The most promising treatment modality is revascularization, whose integral part is the exposure of collagen matrix and embedded growth factors. However, optimization of the treatment protocol requires a development of analytical procedures able to analyze growth factors directly on the sample surface. In this work, method based on surface-enhanced Raman spectroscopy (SERS) was developed to investigate the influence of the time of the medical treatment using EDTA on exposure and accessibility of the growth factors, namely TGF-ß1, BMP-2, and bFGF on the dentine surface. The nanotags, which consist of magnetic Fe3O4@Ag nanocomposite covalently functionalized by tagged antibodies (anti-TGF-ß1-Cy3, anti-BMP-2-Cy5, and anti-bFGF-Cy7), were employed as a SERS substrate. Each antibody was coupled with a unique label allowing us to perform a parallel analysis of all three growth factors within one analytical run. Developed methodology presents an interesting alternative to a fluorescence microscopy and in contrary allows evaluating a chemical composition and thus minimizing possible false-positive results.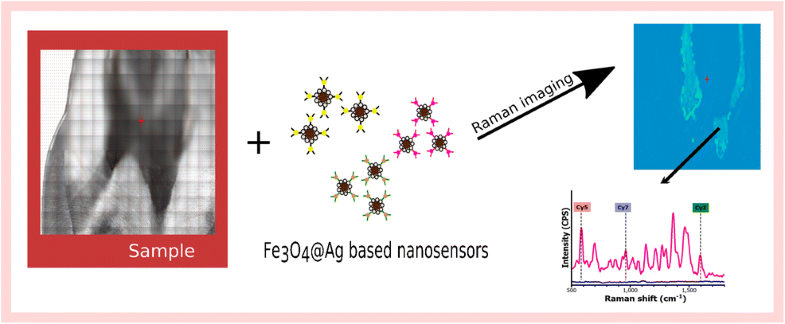 Keywords
SERS 
Nanocomposites 
Growth factors 
Imaging 
Notes
Author contributions
The manuscript was written through contributions of all the authors.
Funding information
The authors received financial support from project NPU LO1305 of the Ministry of Education, Youth and Sports of the Czech Republic; project IGA_PrF_2018_021, CZ.1.07/2.3.00/30.0004, and Research Infrastructure NanoEnviCz, supported by the Ministry of Education, Youth and Sports of the Czech Republic under Project No. LM2015073; and project 16-02938S of the Grant Agency of the Czech Republic.
Compliance with ethical standards
The approval of the ethic committee of the Faculty Hospital Olomouc and Medical Faculty of Palacký University for the study was obtained (NV-18-08-00328).
Conflict of interest
The authors declare that they have no conflict of interest.
Copyright information
© Springer-Verlag GmbH Germany, part of Springer Nature 2018