A fluorescent material for the detection of chlortetracycline based on molecularly imprinted silica–graphitic carbon nitride composite
Abstract
A new fluorescent probe based on graphitic carbon nitride (g-C3N4) combined with molecularly imprinted silica was successfully fabricated and used to selectively recognize chlortetracycline (CTC). The g-C3N4 used in this study has the characteristics of low toxicity and high chemical stability. This synthetic composite was characterized by transmission electron microscopy, Fourier transform infrared spectroscopy, UV spectroscopy, X-ray diffraction, and fluorescence spectroscopy. The material was used to detect CTC by the fluorescence quenching technique. The fluorescence quenching was due to g-C3N4 and the benzene ring of CTC through π–π electron donor–acceptor interaction and electrostatic force. Hydrogen bonds formed between CTC and 3-aminopropyltriethoxysilane during the polymerization process. Eventually, a considerable amount of selective recognition holes were formed in the composite material and could specifically recognize the template molecule CTC. In addition, the probe strategy was successfully applied to milk analysis, and the recoveries ranged from 90.1% to 95.7%, with relative standard deviations of 1.8–2.8%; the detection limit for CTC was 8 ng mL-1. The results indicate that this method combined the sensitivity of fluorescence detection with the excellent selectivity of a molecularly imprinted polymer. The new material can be widely used in the detection of dairy products.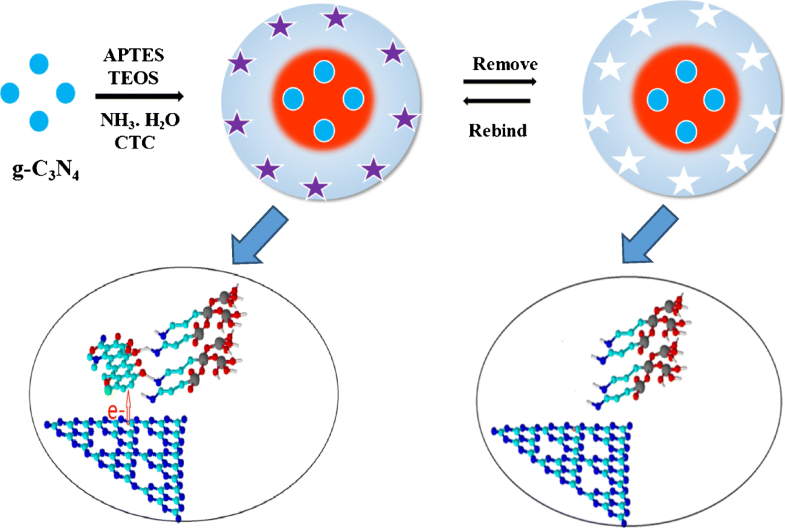 Keywords
Graphitic carbon nitride 
Molecularly imprinted 
π–π electron donor–acceptor interaction 
Chlortetracycline 
Notes
Acknowledgements
This work was supported by the Fundamental Research Funds for the Central Universities (no. 2572017EB08), the Natural Science Foundation of Heilongjiang Province (JJ2018ZR0081), Harbin Science and Technology Innovation Talent Research Special Funds (2016RAQXJ151), and the Open Project of the State Key Laboratory of Urban Water Resource and Environment, Harbin Institute of Technology (no. ES201607).
Compliance with ethical standards
Conflict of interest
The authors declare that they have no competing interests.
Copyright information
© Springer-Verlag GmbH Germany, part of Springer Nature 2018