13C quantification in heterogeneous multiphase natural samples by CMP-NMR using stepped decoupling
Abstract
Many natural and environmental samples contain combinations of liquids, gels, and solids, yet quantification in the intact state and across multiple phases is highly challenging. Comprehensive multiphase nuclear magnetic resonance (CMP-NMR) combines all the capabilities of high-resolution magic angle spinning (HR-MAS), with the addition of full solids power handling, permitting all phases (i.e., mixtures of liquids, gels, and solids) to be studied and differentiated in intact samples without pre-treatment or extraction. Here, quantification in CMP-NMR is considered. As 1H NMR is considerably broadened in the solid-state, quantification is easier to achieve through 13C which can be observed easily in all the phases. Accurate 13C quantification requires effective 1H decoupling for all the phases, but each phase requires different decoupling conditions. To satisfy these conditions, a pulse sequence termed stepped decoupling is introduced. This sequence can be used to study all components under ideal decoupling conditions resulting in high-resolution spectra without truncation artifacts and provides accurate integrals of components in all phases. The approach is demonstrated on standards and then applied to natural samples including broccoli, soil, and Arabidopsis. The approach permits accurate quantification of chemical categories (for example total carbohydrates) as well as individual species (for example glucose). Further, as the samples are studied intact, volatile species such as methanol and ethylene which are normally hard to detect in plants can be easily quantified in Arabidopsis.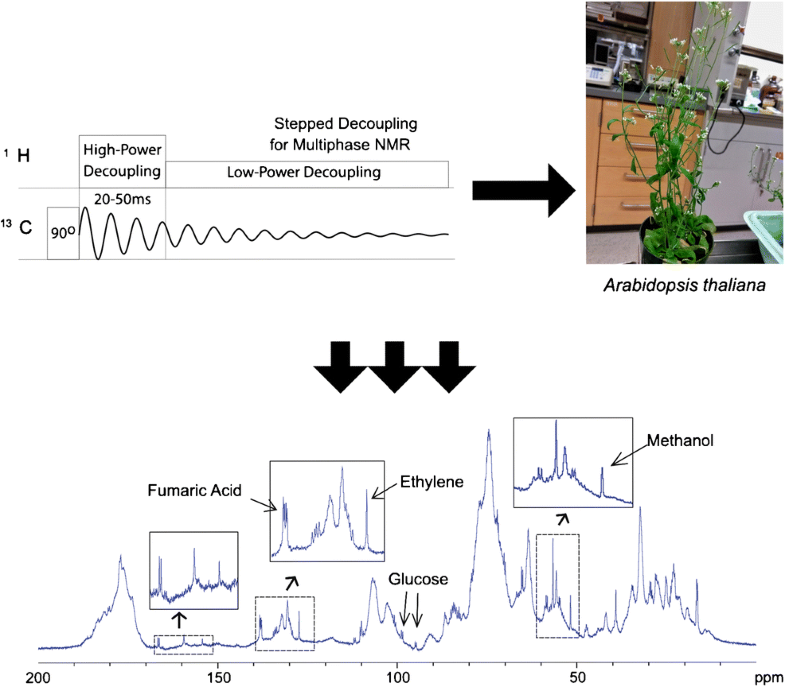 Keywords
CMP-NMR 
Multiphase NMR 
Decoupling 
Multiphase quantification 
Natural intact samples 
Notes
Acknowledgements
We would like to thank the Strategic (STPGP 494273-16) and Discovery Programs (RGPIN-2014-05423), the Canada Foundation for Innovation (CFI), the Ontario Ministry of Research and Innovation (MRI), and the Krembil Foundation for providing funding. A. S. would like to thank the Government of Ontario for an Early Researcher Award.
Compliance with ethical standards
Conflict of interest
The authors declare that they have no conflict of interest.
Copyright information
© Springer-Verlag GmbH Germany, part of Springer Nature 2018