Fluorescent "keep-on" type pharmacophore obtained from dynamic combinatorial library of Schiff bases
Abstract
We established a novel principle for fluorescence detection of a target protein. A low-molecular-weight fluorescent pharmacophore, as a targeted probe, was selected from a dynamic combinatorial library of Schiff bases. The pharmacophore retains its fluorescence when bound to the hydrophobic site of the target, whereas it loses it because of hydrolysis when unbound.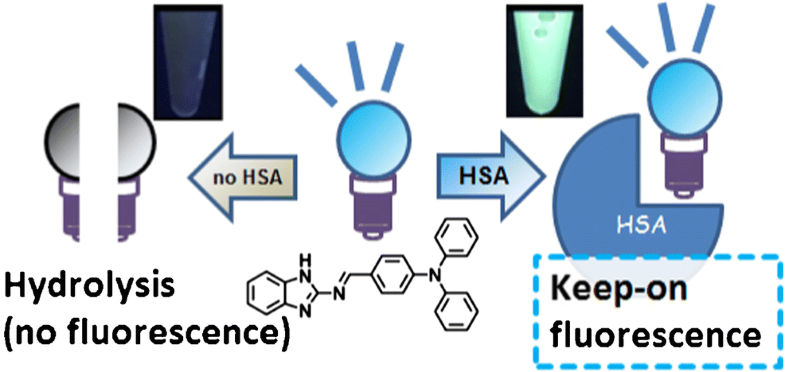 Keywords
Fluorescent HSA binder 
Dynamic combinatorial library 
Schiff base 
Size-exclusion chromatography 
Hydrolysis 
Protein-ligand docking simulation 
Notes
Funding information
This work was supported by a JSPS KAKENHI grant (#17K05925) to M.T. We are grateful to Prof. Dr. K. Ikebukuro and Dr. J. Lee (TUAT) for use of the ITC instrument installed by the grant from the Low-Carbon Research Network Japan (LCnet). We appreciate Dr. L. Nelson (MD Anderson), Prof. T. Yamashita (Keio Univ.), and Prof. M. Tanaka (UEC) for critical reading of this manuscript. We also thank to Dr. H. Nakamura (Biomodeling Research Inc.) for fruitful discussions about molecular modeling.
Compliance with ethical standards
Conflict of interest
The authors declare that they have no conflict of interest.
Copyright information
© Springer-Verlag GmbH Germany, part of Springer Nature 2018