Immunoassay and amperometric biosensor approaches for the detection of deltamethrin in seawater
Abstract
The study of an enzyme-linked immunosorbent assay (ELISA) and an amperometric biosensor for the detection of the pyrethroid deltamethrin in seawater is reported. The preparation of specific polyclonal antibodies is addressed using two immunizing haptens based on deltamethrin and cypermethrin compounds, with a spacer arm placed at the cyano residue in the pyrethroid structure. Different conjugates based on bovine serum albumin and aminodextran are prepared depending on the lipophilic profile of the competitor haptens studied. A reproducible and sensitive indirect competitive ELISA is developed, reaching a limit of detection of 1.2 ± 0.04 μg L−1 and an IC50 value of 21.4 ± 0.3 μg L−1 (both n = 3). For validation of the assays described, artificial seawater samples fortified with deltamethrin are analyzed. For the ELISA assay, these accuracy studies reported a slope of 0.904. An amperometric immunosensor is developed using the same immunoreagents and achieving a comparable detectability in terms of LOD of 4.7 μg L−1, measuring seawater without any pretreatment. These results suggest that both techniques can be used as rapid and simple analytical methods for deltamethrin quantification in seawater samples, which are great candidates for initial environmental screening programs.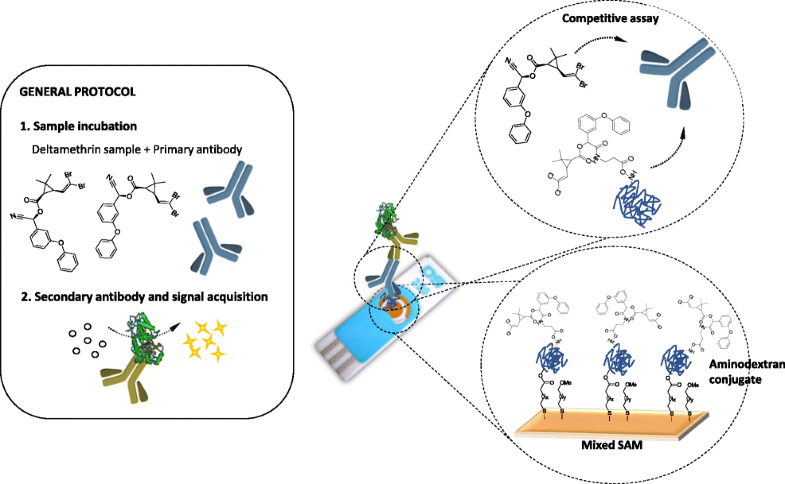 Keywords
Immunoassay 
Amperometric biosensor 
Seawater 
Deltamethrin 
Notes
Funding information
This work has been funded by SEA-on-a-CHIP project (FP7-OCEAN-2013, no 614168). The Nb4D group (formerly Applied Molecular Receptors group, AMRg) is a consolidated research group (Grup de Recerca) of the Generalitat de Catalunya and has support from the Departament d'Universitats, Recerca i Societat de la Informació de la Generalitat de Catalunya (expedient: 2014 SGR 1484). CIBER-BBN is an initiative funded by the Spanish National Plan for Scientific and Technical Research and Innovation 2013–2016; Iniciativa Ingenio 2010, Consolider Program, and CIBER Actions are financed by the Instituto de Salud Carlos III with assistance from the European Regional Development Fund. The ICTS "NANOBIOSIS," and particularly the Custom Antibody Service (CAbS, IQAC-CSIC, CIBER-BBN), is acknowledged for the assistance and support related to the immunoreagents used in this work.
Compliance with ethical standards
Rabbit immunizations included in this study were carried out in the animal facility of the Research and Development Center (CID) from the Spanish Research Council (CSIC) -Registration Number B9900083. All efforts were made to minimize suffering of the animals. The protocol used for the production of antibodies was conducted in accordance with the institutional guidelines under a license from the local government (DAAM 7463) and was approved by the Institutional Animal Care and Use Committee at the CID-CSIC.
Conflict of interest
The authors declare that they have no conflict of interest.
Copyright information
© Springer-Verlag GmbH Germany, part of Springer Nature 2018