A molecularly imprinted sensor with enzymatic enhancement of electrochemiluminescence of quantum dots for ultratrace clopyralid determination
Abstract
A new molecularly imprinted polymer electrochemiluminescence (ECL) sensor was developed for the detection of clopyralid (CPD) based on enzyme-biocatalyzed amplification. CdTe quantum dots were immobilized on the surface of an electrode by reaction with p-aminothiophenol preadsorbed on the electrode. Then a molecularly imprinted film was formed by electrochemical polymerization of o-phenylenediamine in the presence of CPD on the CdTe-modified gold electrode. During the analytical cycle, horseradish peroxidase (HRP)-labeled CPD was replaced by CPD in the sample. The amount of HRP on the molecularly imprinted polymer electrode decreased, and then less H2O2 was catalytically decomposed. Subsequently, the ECL intensity of the CdTe–H2O2 system was enhanced. There was a good linear relationship between ECL intensity and the concentration of CPD in the range from 2.0 × 10-11 to 2.5 × 10-10 mol/L and in the range from 2.5 × 10-10 to 3.5 × 10-8 mol/L. The detection limit was 4.1 × 10-12 mol/L. The sensor was applied to determine CPD in vegetable samples.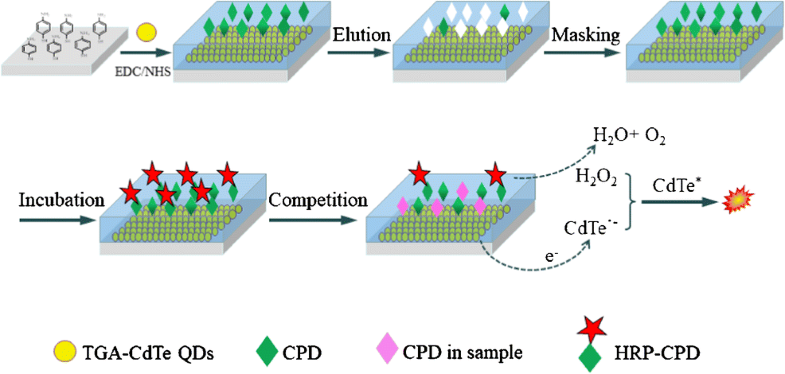 Keywords
Quantum dots 
Molecular imprinting 
Clopyralid 
Enzymatic amplification 
Electrochemiluminescence 
Notes
Acknowledgements
We gratefully acknowledge the financial support from the National Natural Science Foundation of China (nos 21765006 and 21375031), the Natural Science Foundation of Guangxi Province of China (no. 2015GXNSFFA139005), and the High Level Innovation Teams of Guangxi Colleges & Universities and Outstanding Scholars Program (Guijiaoren[2014]49).
Compliance with ethical standards
Conflict of interest
The authors declare that they have no competing interests.
Ethics approval
This work did not involve studies on animals or humans.
Copyright information
© Springer-Verlag GmbH Germany, part of Springer Nature 2018