Electrochemical nonenzymatic sensor for cholesterol determination in food
Abstract
The treatment of some inborn metabolism errors requires cholesterol substitution therapy. Cholesterol plays a vital role in the human body. Therefore, the majority of cholesterol determination techniques are targeted to blood and blood serum. Nevertheless, cholesterol determination in food is important as well. In this paper, cholesterol determination using differential pulse voltammetry (DPV) in dairy products (e.g., milk, clotted cream, yogurt, butter, etc.) is reported with a novel nonenzymatic sensor based on diphosphonic acid of 1,4-diacetylglycoluril (DPADGU) as an electrode surface modifier. Stable anodic response was obtained from cholesterol on the modified carbon-based electrode. The sensor has high stability, sensitivity (20 μA mol L−1 cm−2), and a wide linear range from 1 up to 200 μM. The LOD and LOQ values are 1.5 and 5.1 μM, respectively. The developed methods were successfully applied to the above mentioned dairy products.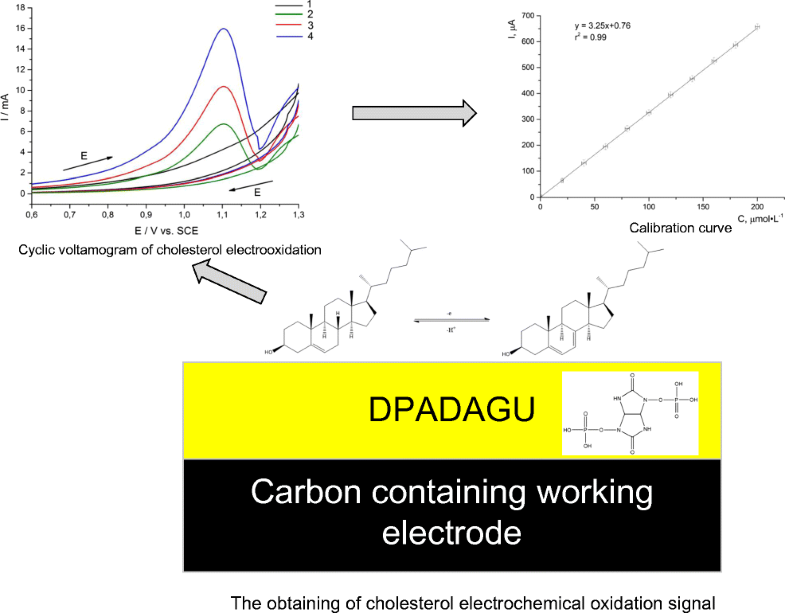 Keywords
Cholesterol 
Voltammetry 
Sensor 
Smith-Lemli-Opitz syndrome 
Dairy products 
Notes
Acknowledgements
The research was partly funded from the State program «Science» (project No. 4.5752.2017) and the framework of Tomsk Polytechnic University Competitiveness Enhancement Program grant. JB thanks for financial support of Grant Agency of the Czech Republic (project P206/12/G151).
Compliance with ethical standards
Conflict of interest
The authors declare that they have no conflict of interest.
Ethical approval
This article does not contain any studies with human participants or animals performed by any of the authors.
Informed consent
No humans are involved in this study.
Copyright information
© Springer-Verlag GmbH Germany, part of Springer Nature 2018