Facile determination of sphingolipids under alkali condition using metal-free column by LC-MS/MS
Abstract
Extraction and analysis of sphingolipids from biological samples is a critical step in lipidomics, especially for minor species such as sphingoid bases and sphingosine-1-phosphate. Although several liquid chromatography-mass spectrometry methods enabling the determination of sphingolipid molecular species have been reported, they were limited in analytical sensitivity and reproducibility by causing significant peak tailing, especially by the presence of phosphate groups, and most of the extraction techniques are laborious and do not cover a broad range of sphingolipid metabolites. In this study, we developed a rapid single-phase extraction and highly sensitive analytical method for the detection and quantification of sphingolipids (including phosphates) comprehensively using liquid chromatography-triple quadruple mass spectrometry. After validating the reliability of the method, we analyzed the intestinal tissue sphingolipids of germ-free (GF) and specific pathogen-free (SPF) mice and found significantly higher levels of free sphingoid bases and sphingosine-1-phosphate in the GF condition as compared to the SPF condition. This method enables a rapid extraction and highly sensitive determination of sphingolipids comprehensively at low femtomolar ranges.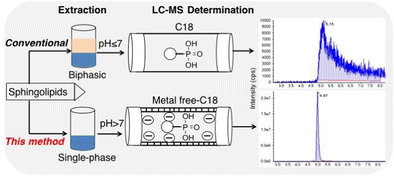 Keywords
Sphingosine-1-phosphate 
Phytosphingosine 
Single-phase extraction 
Intestine 
Liquid chromatography 
Mass spectrometry 
Notes
Acknowledgments
SGBG thanks Dr. Yosuke Isobe for providing mouse tissue samples and Dr. Divyavani Gowda for technical assistance.
Funding information
This work was supported by the Japan Society for the Promotion of Science Grants 15H05898, 15H05897, and 15H04648; the Science and Technology Research Promotion Program for Agriculture, Forestry, Fisheries, and Food Industry; the Japan Agency for Medical Research and Development (JP15gm5910001), and the Japan Science and Technology Agency Core Research for Evolutional Science and Technology.
Compliance with ethical standards
Conflict of interest
The authors declare that they have no conflict of interest.
Research involving animals
Animal experiments were performed in accordance with Japanese laws on the use of animals for experimentation and were approved by the RIKEN Yokohama Institute Ethics Review Committee on Animal Experiments.
Copyright information
© Springer-Verlag GmbH Germany, part of Springer Nature 2018