Mussel-inspired 3D fiber scaffolds for heart-on-a-chip toxicity studies of engineered nanomaterials
Part of the following topical collections:
Abstract
Due to the unique physicochemical properties exhibited by materials with nanoscale dimensions, there is currently a continuous increase in the number of engineered nanomaterials (ENMs) used in consumer goods. However, several reports associate ENM exposure to negative health outcomes such as cardiovascular diseases. Therefore, understanding the pathological consequences of ENM exposure represents an important challenge, requiring model systems that can provide mechanistic insights across different levels of ENM-based toxicity. To achieve this, we developed a mussel-inspired 3D microphysiological system (MPS) to measure cardiac contractility in the presence of ENMs. While multiple cardiac MPS have been reported as alternatives to in vivo testing, most systems only partially recapitulate the native extracellular matrix (ECM) structure. Here, we show how adhesive and aligned polydopamine (PDA)/polycaprolactone (PCL) nanofiber can be used to emulate the 3D native ECM environment of the myocardium. Such nanofiber scaffolds can support the formation of anisotropic and contractile muscular tissues. By integrating these fibers in a cardiac MPS, we assessed the effects of TiO2 and Ag nanoparticles on the contractile function of cardiac tissues. We found that these ENMs decrease the contractile function of cardiac tissues through structural damage to tissue architecture. Furthermore, the MPS with embedded sensors herein presents a way to non-invasively monitor the effects of ENM on cardiac tissue contractility at different time points. These results demonstrate the utility of our MPS as an analytical platform for understanding the functional impacts of ENMs while providing a biomimetic microenvironment to in vitro cardiac tissue samples.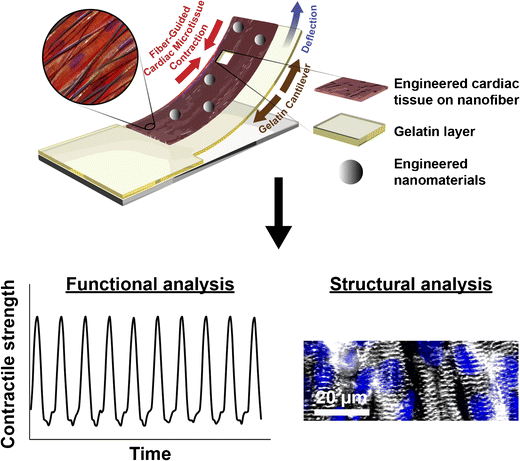 Keywords
Polydopamine 
Nanofiber 
Microphysiological systems 
Cardiotoxicity 
Nanotoxicology 
Notes
Acknowledgements
The content is solely the responsibility of the authors and does not necessarily represent the official views of the National Institutes of Health. The engineered nanomaterials used in the research presented in this publication have been procured or synthesized and characterized by the Engineered Nanomaterials Resource and Coordination Core (ERCC) at the Center for Nanotechnology and Nanotoxicology at Harvard School of Public Health, part of the NIEHS/NHIR consortium. The authors also acknowledge the graphic works provided by Michael Rosnach. The authors also thank Dr. Patrick Campbell for providing information about the guidelines followed for animal experiments.
Funding information
This work was supported by the Wyss Institute for Biologically Inspired Engineering at Harvard University. For the development and characterization of 3D nanofibrous MPS platform, this research was performed in part at the Harvard University Materials Research Science and Engineering Center (MRSEC) under NSF Award No. DMR-1420570 and the Harvard Center for Nanoscale Systems (CNS), which is a member of the National Nanotechnology Infrastructure Network (NNIN) under NSF Award No. 1541959. Research reported in this publication was supported by National Institute of Environmental Health Sciences of the National Institutes of Health under Award Number (NIH grant number U01ES027272) as part of the Nanotechnology Health Implications Research (NHIR) Consortium.
Compliance with ethical standards
Conflict of interest
The authors declare that they have no conflict of interest.
Research involving human participants and/or animals
The Faculty of Arts and Sciences (FAS) of Harvard University maintains an Institutional Animal Care and Use Committee (IACUC) as required by the Public Health Service (PHS) Policy on Humane Care and Use of Laboratory Animals. All protocols for animal experiments done in this study were approved by IACUC at Harvard University. All animals were appropriately housed prior to use. On arrival to our animal facility, neonatal rat pups used in the study and their dams were housed in clean, ventilated microisolator cages in a climate-controlled, automatic light cycle-equipped room with dam having free access to food and fresh water. All research personnel handling animals were appropriately qualified and trained by Harvard's Office of Animal Resources under the direction of the Attending Veterinarian. Our euthanasia method for the pups is consistent with the recommendations of the 2013 American Veterinary Medical Association (AVMA) Guidelines on Euthanasia for rodents. All rats used in this study were cared for and used in a manner that complies with the US Government Principles for the Utilization and Care of Vertebrate Animals Used in Testing, Research, and Training [63]; the Guide for the Care and Use of Laboratory Animals [64]; and the Animal Welfare Act/Regulations [65].
Copyright information
© Springer-Verlag GmbH Germany, part of Springer Nature 2018