Synthesis and application of magnetic molecularly imprinted polymers in sample preparation
Abstract
Magnetic molecularly imprinted polymers (MMIPs) have superior advantages in sample pretreatment because of their high selectivity for target analytes and the fast and easy isolation from samples. To meet the demand of both good magnetic property and good extraction performance, MMIPs with various structures, from traditional core–shell structures to novel composite structures with a larger specific surface area and more accessible binding sites, are fabricated by different preparation technologies. Moreover, as the molecularly imprinted polymer (MIP) layers determine the affinity, selectivity, and saturated adsorption amount of MMIPs, the development and innovation of the MIP layer are attracting attention and are reviewed here. Many studies that used MMIPs as sorbents in dispersive solid-phase extraction of complex samples, including environmental, food, and biofluid samples, are summarized.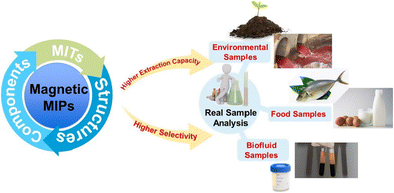 Keywords
Magnetic molecularly imprinted polymers 
Sample preparation 
Complex samples 
Dispersive solid-phase extraction 
Selective extraction 
Abbreviations
ATRP

Atom transfer radical polymerization

BPA

Bisphenol A

CNT

Carbon nanotube

DSPE

Dispersive solid-phase extraction

EGDMA

Ethylene glycol dimethacrylate

Fe3O4@SiO2

Silica-coated Fe3O4

FRP

Free-radical polymerization

GO

Graphene oxide

HPLC

High-performance liquid chromatography

IF

Imprinting factor

IIP

Ion-imprinted polymer

LCRP

Living/controlled radical polymerization

LOD

Limit of detection

MAA

Methacrylic acid

MIP

Molecularly imprinted polymer

MIT

Molecular imprinting technology

MMIP

Magnetic molecularly imprinted polymer

MNP

Magnetic nanoparticle

MPS

3-(Methacryloxy)propyl trimethoxysilane

RAFT

Reversible addition fragmentation chain transfer

si-ATRP

Surface-initiated atom transfer radical polymerization
Notes
Acknowledgements
Financial support from the National Natural Science Foundation of China (grants 21377172, 21225731, 21477166, 21527813, and 21225731) and the Natural Science Foundation of Guangdong Province (grant S2013030013474) is gratefully acknowledged.
Compliance with ethical standards
Conflict of interest
The authors declare that they have no competing interests.
Copyright information
© Springer-Verlag GmbH Germany, part of Springer Nature 2018