Evaluating droplet digital PCR for the quantification of human genomic DNA: converting copies per nanoliter to nanograms nuclear DNA per microliter
Abstract
The highly multiplexed polymerase chain reaction (PCR) assays used for forensic human identification perform best when used with an accurately determined quantity of input DNA. To help ensure the reliable performance of these assays, we are developing a certified reference material (CRM) for calibrating human genomic DNA working standards. To enable sharing information over time and place, CRMs must provide accurate and stable values that are metrologically traceable to a common reference. We have shown that droplet digital PCR (ddPCR) limiting dilution end-point measurements of the concentration of DNA copies per volume of sample can be traceably linked to the International System of Units (SI). Unlike values assigned using conventional relationships between ultraviolet absorbance and DNA mass concentration, entity-based ddPCR measurements are expected to be stable over time. However, the forensic community expects DNA quantity to be stated in terms of mass concentration rather than entity concentration. The transformation can be accomplished given SI-traceable values and uncertainties for the number of nucleotide bases per human haploid genome equivalent (HHGE) and the average molar mass of a nucleotide monomer in the DNA polymer. This report presents the considerations required to establish the metrological traceability of ddPCR-based mass concentration estimates of human nuclear DNA.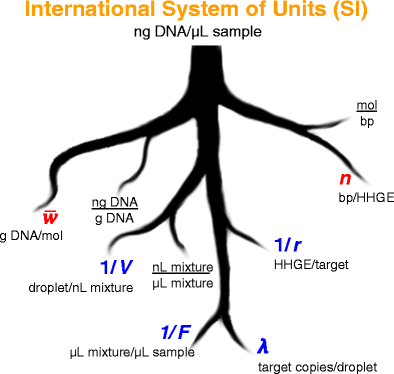 Keywords
Certified Reference Material (CRM) 
Droplet digital polymerase chain reaction (ddPCR) 
Human nuclear DNA 
Metrological traceability 
Notes
Acknowledgments
We thank our NIST colleague Justin Zook for interpreting the information provided by The Genome Reference Consortium and an anonymous Referee for insightful suggestions and corrections. This work was supported in part by the NIST Special Programs Office project Forensic DNA.
Compliance with ethical standards
Human and animal rights
All work presented has been reviewed and approved by the National Institute of Standards and Technology Human Subjects Protections Office. This study was determined to be "not human subjects research" (often referred to as research not involving human subjects) as defined in U. S. Department of Commerce Regulations, 15 CFR 27, also known as the Common Rule (45 CFR 46, Subpart A), for the Protection of Human Subjects by the NIST Human Subjects Protection Office and therefore not subject to oversight by the NIST Institutional Review Board.
Conflict of interest
The authors declare that they have no conflict of interest.
Disclaimer
Certain commercial equipment, instruments, or materials are identified in this report to specify adequately experimental conditions or reported results. Such identification does not imply recommendation or endorsement by the National Institute of Standards and Technology, nor does it imply that the equipment, instruments, or materials identified are necessarily the best available for the purpose.
Copyright information
© This is a U.S. Government work and not under copyright protection in the US; foreign copyright protection may apply 2018