A novel integrated strategy for the detection and quantification of the neurotoxin β-N-methylamino-
l

-alanine in environmental samples
Abstract
We describe a set of new tools for the detection and quantification of β-N-methylamino-l-alanine (BMAA) which includes a novel stable isotope-labeled BMAA standard (13C3,15N2) and a chip-based capillary electrophoresis mass spectrometry platform for separation and detection. Baseline resolution of BMAA from its potentially confounding structural isomers N-2-aminoethylglycine (AEG) and 2,4-diaminobutyric acid (2,4-DAB) is achieved using the chip-based CE-MS system in less than 1 min. Detection and linearity of response are demonstrated across > 3.5 orders of dynamic range using parallel reaction monitoring (PRM). The lower limit of detection and quantification were calculated for BMAA detection at 40 nM (4.8 ng/mL) and 400 nM (48 ng/mL), respectively. Finally, the strategy was applied to detect BMAA in seafood samples purchased at a local market in Raleigh, NC where their harvest location was known. BMAA was detected in a sea scallop sample. Because the BMAA/stable isotope-labeled 13C3,15N2-BMAA (SIL-BMAA) ratio in the scallop sample was below the limit of quantification, a semiquantitative analysis of BMAA content was carried out, and BMAA content was estimated to be approximately 820 ng BMAA/1 g of wet scallop tissue. Identification was verified by high mass measurement accuracy of precursor (< 5 ppm) and product ions (< 10 ppm), comigration with SIL-BMAA spike-in standard, and conservation of ion abundance ratios for product ions between BMAA and SIL-BMAA. Interestingly, BMAA was not identified in the free protein fraction but only detected after protein hydrolysis which suggests that BMAA is tightly bound by and/or incorporated into proteins.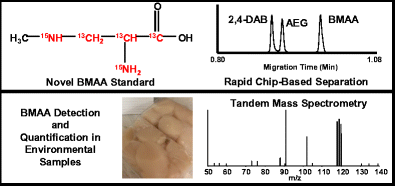 Keywords
BMAA 
CZE 
Isomer separation 
Quantification 
HRAM MS/MS 
Seafood 
Notes
Acknowledgements
All of the mass spectrometry measurements were carried out in the Molecular Education, Technology, and Research Innovation Center (METRIC) at NC State University.
Funding information
David C. Muddiman would like to acknowledge the NC State University Chancellor's Innovation Fund (CIF). Michael S. Bereman would like to acknowledge NC State University for startup funding and the Center for Human Health and the Environment (CHHE), P30ES025128.
Compliance with ethical standards
This research did not involve human participants or animals.
Conflicts of interest
David C. Muddiman is named on a patent that is pending for which Cambridge Isotope Laboratories pays royalties to NC State University. None of the remaining authors have any conflicts of interest.
Copyright information
© Springer-Verlag GmbH Germany, part of Springer Nature 2018