Characterization of a novel miniaturized burst-mode infrared laser system for IR-MALDESI mass spectrometry imaging
Abstract
Laser systems are widely used in mass spectrometry as sample probes and ionization sources. Mid-infrared lasers are particularly suitable for analysis of high water content samples such as animal and plant tissues, using water as a resonantly excited sacrificial matrix. Commercially available mid-IR lasers have historically been bulky and expensive due to cooling requirements. This work presents a novel air-cooled miniature mid-IR laser with adjustable burst-mode output and details an evaluation of its performance for mass spectrometry imaging. The miniature laser was found capable of generating sufficient energy for complete ablation of animal tissue in the context of an IR-MALDESI experiment with exogenously added ice matrix, yielding several hundred confident metabolite identifications.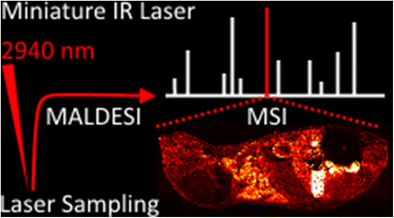 Keywords
Mass spectrometry imaging 
Infrared laser 
IR-MALDESI 
HRAM mass spectrometry 
Notes
Acknowledgements
The authors thank Prof. Troy Ghashghaei (NCSU Department of Molecular Biomedical Sciences) for providing the animal tissues used in imaging experiments.
Funding information
Financial support for this work was received from the National Institutes of Health (R01GM087964). All of the mass spectrometry measurements were carried out in the Molecular Education, Technology, and Research Innovation Center (METRIC) at NC State University.
Compliance with ethical standards
Conflicts of interest
J. Manni is president and owner of JGM Associates Inc. (JGMA) which makes the 2950-nm OPO laser used in these experiments. Certain aspects of the laser design are JGMA patent pending. None of the remaining authors have any conflicts of interest.
Use of research animals
This study utilized tissues sourced from animals managed in accordance with the Institute for Laboratory Animal Research Guide. All husbandry practices were approved by North Carolina State University Institutional Animal Care and Use Committee (IACUC).
Copyright information
© Springer-Verlag GmbH Germany, part of Springer Nature 2018