Paper-based immune-affinity arrays for detection of multiple mycotoxins in cereals
Abstract
Mycotoxins produced by different species of fungi may coexist in cereals and feedstuffs, and could be highly toxic for humans and animals. For quantification of multiple mycotoxins in cereals, we developed a paper-based mycotoxin immune-affinity array. First, paper-based microzone arrays were fabricated by photolithography. Then, monoclonal mycotoxin antibodies were added in a copolymerization reaction with a cross-linker to form an immune-affinity monolith on the paper-based microzone array. With use of a competitive immune-response format, paper-based mycotoxin immune-affinity arrays were successfully applied to detect mycotoxins in samples. The detection limits for deoxynivalenol, zearalenone, T-2 toxin, and HT-2 toxin were 62.7, 10.8, 0.36, and 0.23 μg·kg-1, respectively, which meet relevant requirements for these compounds in food. The recovery rates were 81–86% for deoxynivalenol, 89–117% for zearalenone, 79–86% for T-2 toxin, and 78–83% for HT-2 toxin, and showed the paper-based immune-affinity arrays had good reproducibility. In summary, the paper-based mycotoxin immune-affinity array provides a sensitive, rapid, accurate, stable, and convenient platform for detection of multiple mycotoxins in agro-foods.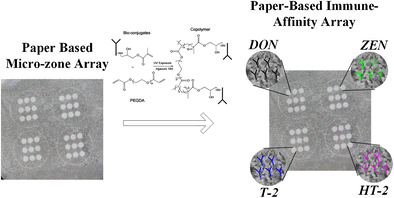 Keywords
Paper-based array 
Immune-affinity array 
Mycotoxins 
UV-initiated copolymerization 
Chemiluminescent detection 
Abbreviations
BSA

Bovine serum albumin

CL

Chemiluminescent

CV

Coefficient of variation

DON

Deoxynivalenol

ELISA

Enzyme-linked immunosorbent assay

FB1

Fumonisin B1

GC-MS

Gas chromatography–mass spectrometry

GMA

Glycidyl methacrylate

LC-MS

Liquid chromatography–mass spectrometry

HRP

Horseradish peroxidase

HT-2

HT-2 toxin

LOD

Limit of detection

PEG 200

Polyethylene glycol 200

PEGDA

Polyethylene glycol diacrylate

T-2

T-2 toxin

XPS

X-ray photoelectron spectroscopy

ZEN

Zearalenone
Notes
Acknowledgements
We gratefully acknowledge financial support from National Natural Science Foundation of China (grant no. 11505081) and Jiangsu Agricultural Science and Technology Innovation Fund (grant no. ZX(17)2010). We also thank the test center of Jiangsu Academy of Agricultural Science for generously allowing us to detect some chemical properties of mycotoxin immune-affinity monoliths.
Compliance with ethical standards
Conflict of interest
The authors declare that they have no competing interests.
Copyright information
© Springer-Verlag GmbH Germany, part of Springer Nature 2018