Performance of combined fragmentation and retention prediction for the identification of organic micropollutants by LC-HRMS
Abstract
In nontarget screening, structure elucidation of small molecules from high resolution mass spectrometry (HRMS) data is challenging, particularly the selection of the most likely candidate structure among the many retrieved from compound databases. Several fragmentation and retention prediction methods have been developed to improve this candidate selection. In order to evaluate their performance, we compared two in silico fragmenters (MetFrag and CFM-ID) and two retention time prediction models (based on the chromatographic hydrophobicity index (CHI) and on log D). A set of 78 known organic micropollutants was analyzed by liquid chromatography coupled to a LTQ Orbitrap HRMS with electrospray ionization (ESI) in positive and negative mode using two fragmentation techniques with different collision energies. Both fragmenters (MetFrag and CFM-ID) performed well for most compounds, with average ranking the correct candidate structure within the top 25% and 22 to 37% for ESI+ and ESI− mode, respectively. The rank of the correct candidate structure slightly improved when MetFrag and CFM-ID were combined. For unknown compounds detected in both ESI+ and ESI−, generally positive mode mass spectra were better for further structure elucidation. Both retention prediction models performed reasonably well for more hydrophobic compounds but not for early eluting hydrophilic substances. The log D prediction showed a better accuracy than the CHI model. Although the two fragmentation prediction methods are more diagnostic and sensitive for candidate selection, the inclusion of retention prediction by calculating a consensus score with optimized weighting can improve the ranking of correct candidates as compared to the individual methods.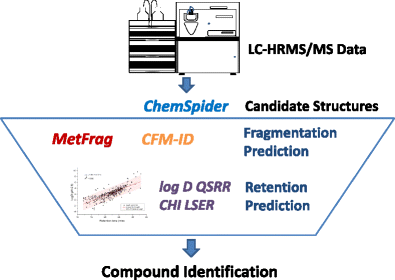 Keywords
LC-HRMS 
Environmental contaminants 
Structure elucidation 
Fragmentation prediction 
Retention prediction 
Micropollutants 
Notes
Acknowledgments
We gratefully acknowledge the support of the European Marie Curie Initial Training Network EDA-EMERGE (Grant Agreement no. 290100) and the European FP7 Collaborative Project SOLUTIONS (Grant Agreement no. 603437). MH was supported by EDA-EMERGE (ESR09) and the HIGRADE Graduate School of Helmholtz Centre for Environmental Research-UFZ. MH thanks Juliane Hollender for hosting her exchange at Eawag within EDA-EMERGE. A free academic license for Instant JChem, JChem for Excel, Marvin, and the Calculator Plugins was kindly provided by ChemAxon (Budapest, Hungary). We thank Steffen Neumann for fruitful discussions and comments on the manuscript, Felicity Allen for her support in implementing and applying CFM-ID, Nadin Ulrich and Christine Hug for their support for application of the CHI model, and Janek Paul Dann for providing the data used for the development of the log D model.
Compliance with ethical standards
Conflict of interest
The authors declare no conflicts of interest.
Copyright information
© Springer-Verlag GmbH Germany, part of Springer Nature 2018