Microbial biosensing of ciprofloxacin residues in food by a portable lens-free CCD-based analyzer
Part of the following topical collections:
Abstract
We present a rapid and simple approach for sensitive detection of antibiotic residues in food samples based on luminescence induction by live bacterial sensor strains integrated into a CCD-based lens-free optical analyzer (LumiSense). Using ciprofloxacin as a model antibiotic, we demonstrate response times of between 20 and 80 min, and detection thresholds of 8 ng/mL for milk, egg white, and chicken essence, and 64 ng/mL for egg yolk. These values are below the minimal allowed values as defined by European Union regulations. Although not intended to replace traditional analytical equipment and regulation-approved methods, LumiSense and similar systems, sample preparation for which involves only simple mixing, dilution, and homogenization, may nevertheless provide a simple means for high-throughput food sample screening.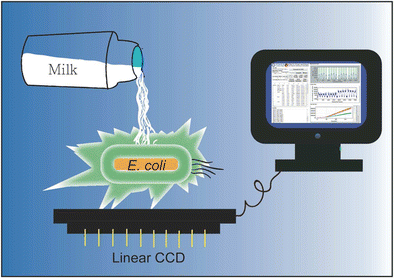 Keywords
Antibiotics 
Whole cell biosensor  
Microbial biosensor 
Milk 
Eggs 
Chicken essence 
Notes
Acknowledgements
We are grateful to the Taiwanese-Israeli program for scientific research cooperation administered by the Israeli Ministry of Science and the Taiwanese Ministry of Science and Technology (NSC 102-2923-M-001-04-MY2, MOST 106-2113-M-001-018), to the Research Program on Nanoscience and Nanotechnology, Academia Sinica, Taiwan, and to the Hebrew University-Academia Sinica Joint Research Program on Nanoscience and Nanotechnology. Work in the Belkin laboratory was also partially supported by the Minerva Center for Bio-hybrid Complex Systems and by the NATO Science for Peace and Security Programme project 985042.
Compliance with ethical standards
Conflict of interest
The authors declare that they have no competing interests.
Copyright information
© Springer-Verlag GmbH Germany, part of Springer Nature 2017