LC-MS/MS imaging with thermal film-based laser microdissection
Abstract
Mass spectrometry (MS) imaging is a useful tool for direct and simultaneous visualization of specific molecules. Liquid chromatography-tandem mass spectrometry (LC-MS/MS) is used to evaluate the abundance of molecules in tissues using sample homogenates. To date, however, LC-MS/MS has not been utilized as an imaging tool because spatial information is lost during sample preparation. Here we report a new approach for LC-MS/MS imaging using a thermal film-based laser microdissection (LMD) technique. To isolate tissue spots, our LMD system uses a 808-nm near infrared laser, the diameter of which can be freely changed from 2.7 to 500 μm; for imaging purposes in this study, the diameter was fixed at 40 μm, allowing acquisition of LC-MS/MS images at a 40-μm resolution. The isolated spots are arranged on a thermal film at 4.5-mm intervals, corresponding to the well spacing on a 384-well plate. Each tissue spot is handled on the film in such a manner as to maintain its spatial information, allowing it to be extracted separately in its individual well. Using analytical LC-MS/MS in combination with the spatial information of each sample, we can reconstruct LC-MS/MS images. With this imaging technique, we successfully obtained the distributions of pilocarpine, glutamate, γ-aminobutyric acid, acetylcholine, and choline in a cross-section of mouse hippocampus. The protocol we established in this study is applicable to revealing the neurochemistry of pilocarpine model of epilepsy. Our system has a wide range of uses in fields such as biology, pharmacology, pathology, and neuroscience.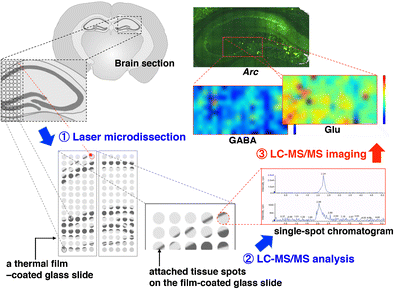 Keywords
Imaging mass spectrometry 
LC-MS/MS 
Laser microdissection 
Thermal film 
Neurotransmitter 
Hippocampus 
Notes
Acknowledgements
This work is supported by Research Grants for Development of System and Technology for Advanced Measurement and Analysis (system development type) from the Japan Science and Technology Agency (JST-SENTAN Program).
Compliance with ethical standards
All animal procedures were approved by the Animal Use and Care Committees of Nagoya University (No.17231) and conducted in accordance with the guidelines of the Animal Use and Care Committees of Nagoya University.
Conflict of interest
The authors declare that they have no conflict of interest.
Copyright information
© Springer-Verlag GmbH Germany, part of Springer Nature 2017