An improvement of miRNA extraction efficiency in human plasma
Abstract
MicroRNAs (miRNAs) are short noncoding RNA molecules that control the expression of mRNAs associated with various biological processes. Therefore, deregulated miRNAs play important roles in the pathogenesis of diseases. Numerous studies are aimed at discovering biomarkers of diseases or determining miRNA functions by monitoring circulating miRNAs in various biological sources such as plasma and urine. However, the analysis of miRNA in such fluids presents problems related to accuracy and reproducibility because of their low levels in biological fluids. Therefore, better extraction kits and more sensitive detection systems have been developed for improved and reproducible analysis of circulating miRNAs. However, new extraction methods are also needed to improve the yield of miRNAs for their reliable analysis from biological fluids. The combination of yeast transfer RNA (tRNA) and glycogen as carrier molecules and incubation durations were optimized to maximize extraction efficiency. The extraction recovery using a combination of yeast tRNA and glycogen was approximately threefold more than that by using glycogen or yeast tRNA alone. In addition, reproducible and accurate analysis of miRNAs can be carried out after extraction using a combination of yeast tRNA and glycogen without an impact on plasma components.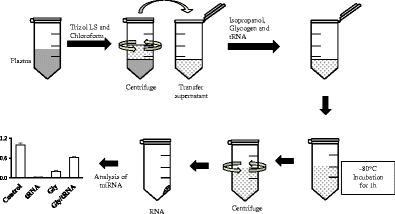 Keywords
miRNA 
Glycogen 
Yeast tRNA 
Extraction efficiency 
Notes
Acknowledgements
This work was supported by the National Research Foundation of Korea (NRF) grant funded by the Korea government (MSIP) (2015R1A2A2A04005596 and 2016R1D1A1B03931222) and the intramural grant from the Korea Institute of Science and Technology (2E26990).
Compliance with ethical standards
Conflict of interest
The authors declare that they have no conflict of interest.
Human plasma
Human pooled plasmas collected in K3-EDTA were purchased from Biochemed Service (Winchester, VA, USA).
Rat plasma
Rat plasma samples collected in K3-EDTA from three individual female Sprague Dawley rats were obtained from CHA University (Seongnam, South Korea). The animals were handled in accordance with the guidelines of the Institutional Animal Care and Use Committee (IACUC) of CHA University (IACUC150058), Seongnam, South Korea.
Copyright information
© Springer-Verlag GmbH Germany 2017