Combination of MALDI-MSI and cassette dosing for evaluation of drug distribution in human skin explant
Abstract
Study of skin penetration and distribution of the drug compounds in the skin is a major challenge in the development of topical drug products for treatment of skin diseases. It is crucial to have fast and efficacious screening methods which can provide information concerning the skin penetration and the distribution of the drug molecules in the region of the target. Mass spectrometry imaging (MSI) such as matrix-assisted laser desorption/ionization (MALDI)-MSI offers the opportunity to analyze the drug distribution at micrometer scale, but is a low throughput technique. Cassette dosing of drug molecules has been widely used for two decades as a high throughput screening tool for plasma pharmacokinetic analysis. The purpose of this study is to evaluate the utility of combining MALDI-MSI with cassette dosing to obtain a medium throughput screening technique for drug distribution in the skin directly from thin tissue sections. Excised fresh human skin was treated with two different formulation types containing both single drugs and a cassette with four drugs. Biopsies were taken and analyzed with traditional UHPLC-MS/MS and MALDI-MSI. The results reveal that skin penetration data of the four drugs administered together were in agreement with skin penetration data obtained when the molecules were administered individually. Furthermore, the MALDI-MSI data reveal different distribution profiles of the four drugs which were not possible to deduce from the UHPLC-MS/MS bioanalysis. These findings suggest that combination of MALDI-MSI and cassette dosing can be used as a medium throughput screening tool at an early stage in the drug discovery/development process.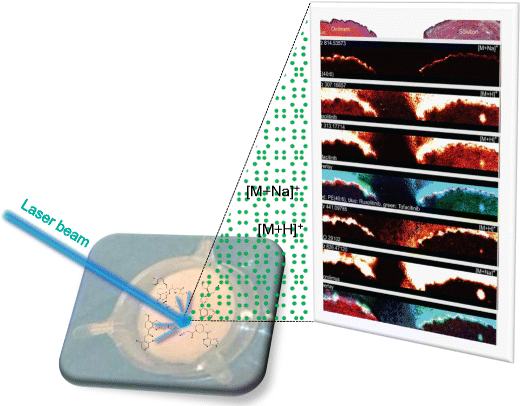 Keywords
Mass spectrometry imaging 
MALDI-MSI 
Human skin 
Cassette dosing 
Drug distribution 
Skin penetration 
Notes
Acknowledgements
We acknowledge Tina Leonhardt Hjort for her expert technical assistance with skin penetration studies, Ida Seeger for her expert technical assistance with the production of the formulations, Liselotte Saustrup Kirk and Karina Juul Kristensen for their expert technical assistance with the UHPLC-MS/MS bioanalysis of the biopsies and the culture media, and Christa Ancher Marvig for determination of the log D values.
Compliance with ethical standards
Conflict of interest
The authors declare that they have no conflict of interest.
Informed consent
The study involved anonymized human skin samples from abdominoplasty surgery acquired from Biopredic International, France upon written informed consent of the donor.
Ethical approval
According to the Danish Committee Act section 14.3, anonymous human biological material used in health research projects shall not seek ethical approval as long as the collected human biological material has been collected lawfully in the country of origin which is the case. The supplier of the human biological material holds a permit granted by the French Ministry of Higher Education and Research for the acquisition, transformation, sales, and export of human biological material to be used in research, and is furthermore in compliance with the French law CSP1245-2
Copyright information
© Springer-Verlag GmbH Germany 2017