In situ monitoring of molecular changes during cell differentiation processes in marine macroalgae through mass spectrometric imaging
Abstract
Matrix-assisted laser desorption/ionization mass spectrometric imaging (MALDI-MSI) was employed to discriminate between cell differentiation processes in macroalgae. One of the key developmental processes in the algal life cycle is the production of germ cells (gametes and zoids). The gametogenesis of the marine green macroalga Ulva mutabilis (Chlorophyta) was monitored by metabolomic snapshots of the surface, when blade cells differentiate synchronously into gametangia and giving rise to gametes. To establish MSI for macroalgae, dimethylsulfoniopropionate (DMSP), a known algal osmolyte, was determined. MSI of the surface of U. mutabilis followed by chemometric data analysis revealed dynamic metabolomic changes during cell differentiation. DMSP and a total of 55 specific molecular biomarkers, which could be assigned to important stages of the gametogenesis, were detected. Our research contributes to the understanding of molecular mechanisms underlying macroalgal cell differentiation.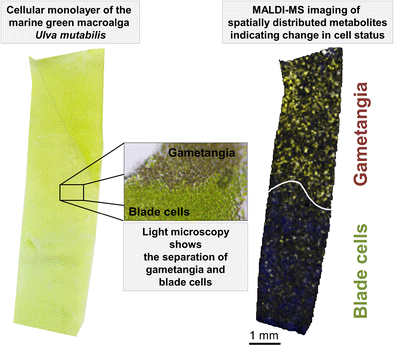 Keywords
Ulva
MALDI-MSI 
AP-MALDI 
Biomarkers 
Dimethylsulfoniopropionate (DMSP) 
Notes
Acknowledgements
The authors thank Dr. Michael Becker (Bruker Daltonik) and Prof. Dr. Georg Pohnert (University Jena) for useful discussions and the EMZ Jena for the scanning electron microscopy investigations. Financial support from the Deutsche Forschungsgemeinschaft (DFG) SFB 1127 ChemBioSys (R.K., T.W., U.S.S.) and from the Deutsche Bundesstiftung Umwelt (R.K.) is acknowledged.
Compliance with ethical standards
Conflict of interest
The authors declare that they have no conflict of interest.
Copyright information
© Springer-Verlag Berlin Heidelberg 2017