Development of a hydrophilic interaction liquid chromatography coupled with matrix-assisted laser desorption/ionization-mass spectrometric imaging platform for N-glycan relative quantitation using stable-isotope labeled hydrazide reagents
Abstract
In this work, the capability of newly developed hydrophilic interaction liquid chromatography (HILIC) coupled with matrix-assisted laser desorption/ionization-mass spectrometric imaging (MALDI-MSI) platform for quantitative analysis of N-glycans has been demonstrated. As a proof-of-principle experiment, heavy and light stable-isotope labeled hydrazide reagents labeled maltodextrin ladder were used to demonstrate the feasibility of the HILIC-MALDI-MSI platform for reliable quantitative analysis of N-glycans. MALDI-MSI analysis by an Orbitrap mass spectrometer enabled high-resolution and high-sensitivity detection of N-glycans eluted from HILIC column, allowing the re-construction of LC chromatograms as well as accurate mass measurements for structural inference. MALDI-MSI analysis of the collected LC traces showed that the chromatographic resolution was preserved. The N-glycans released from human serum was used to demonstrate the utility of this novel platform in quantitative analysis of N-glycans from a complex sample. Benefiting from the minimized ion suppression provided by HILIC separation, comparison between MALDI-MS and the newly developed platform HILIC-MALDI-MSI revealed that HILIC-MALDI-MSI provided higher N-glycan coverage as well as better quantitation accuracy in the quantitative analysis of N-glycans released from human serum.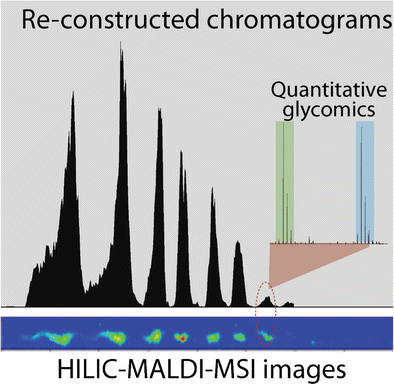 Keywords
Glycomics 
N-Glycans 
MALDI imaging 
Quantitation 
HILIC 
Hydrazide reagents 
Notes
Acknowledgements
This research was supported in part by the National Institutes of Health (NIH) grants R21AG055377, R01 DK071801, and R56 MH110215. The Orbitrap instruments were purchased through the support of an NIH shared instrument grant (NIH-NCRR S10RR029531) and Office of the Vice Chancellor for Research and Graduate Education at the University of Wisconsin-Madison. LL acknowledges a Vilas Distinguished Achievement Professorship with funding provided by the Wisconsin Alumni Research Foundation and University of Wisconsin-Madison School of Pharmacy.
Compliance with ethical standards
Conflict of interest
The authors declare that they have no conflict of interest.
Copyright information
© Springer-Verlag Berlin Heidelberg 2017