Dot immunoassay for the simultaneous determination of postvaccination immunity against pertussis, diphtheria, and tetanus
Abstract
A dot immunoassay for simultaneous semiquantitative detection of IgG against tetanus toxoid (Ttx) and diphtheria toxoid (Dtx) and qualitative detection of anti-Bordetella pertussis IgGs in human blood serum using carbon nanoparticles functionalized with streptococcal protein G was developed. Inactivated B. pertussis cells in suspension form were used as an antigen in the immunoassay. Pertussis, tetanus, and diphtheria antigens were separately spotted onto nitrocellulose strips, and then the immunostrips were successively incubated with blood sera and a suspension of carbon nanoparticles. The immunostrips were then scanned with a flatbed scanner, and the images obtained were processed with ImageJ. One hundred fifty-five venous blood serum samples from children vaccinated with diphtheria, tetanus, and whole-cell pertussis (DTwP) vaccine were tested in comparison with a conventional ELISA and agglutination test. The total time required for analysis of 32 serum samples was less than 3 h. Comparison between the results of the dot immunoassay and the corresponding ELISA/agglutination test revealed a high level of agreement (Cohen's kappa between 0.765 and 0.813). The lower limit of quantification was 0.06 IU/ml for anti-Ttx and anti-Dtx. The intra-assay coefficients of variation were less than 15% for anti-Ttx and anti-Dtx and less than 10% for anti-pertussis. The diagnostic sensitivity of detection of the antibody protection level was 93.5% for anti-Ttx [95% confidence interval (CI) 83.5–97.9%], 92.4% for anti-Dtx (95% CI 80.9297.5%), and 90.2% for anti-pertussis (95% CI 75.9–96.8%). The diagnostic specificity was 90.9% for anti-Ttx (95% CI 57.1–99.5%), 85% for anti-Dtx (95% CI 61.1–96.0%), and 89.3% for anti-pertussis (95%CI 80.8–94.5%). The dot immunoassay developed does not require expensive reading equipment, and allows detection of antibodies against three antigens in a single analysis. The immunostrips can be stored for a long time without changes in the coloration of the spots.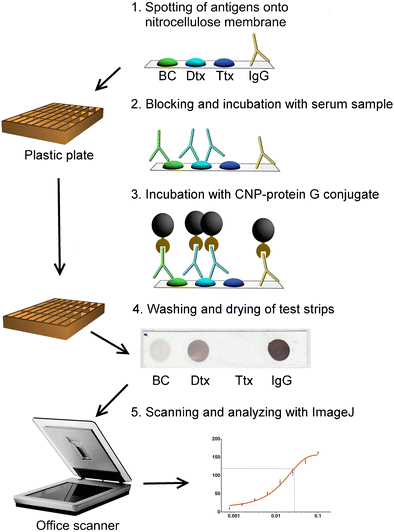 Keywords
Pertussis 
Tetanus 
Diphtheria 
Dot immunoassay 
Antibody 
Carbon nanoparticles 
Abbreviations
AU

Arbitrary unit

BSA

Bovine serum albumin

CNP

Carbon nanoparticle

CV

Coefficient of variation

DTaP

Diphtheria, tetanus, and acellular pertussis

DTwP

Diphtheria, tetanus, and whole-cell pertussis

Dtx

Diphtheria toxoid

ELISA

Enzyme linked immunosorbent assay

PBS

Phosphate-buffered saline

PBST

Phosphate-buffered saline with Tween 20

ROC

Receiver operating characteristic

S/P value

Intensity of the sample minus the intensity of the negative control divided by the intensity of positive control minus the intensity of the negative control

Ttx

Tetanus toxoid
Notes
Acknowledgements
The authors thank Nina B. Shemyakina for assistance in blood serum collection. We also express our gratitude to the participating nurses and parents for their contribution. The work was supported by the program for improving the competitiveness of the Ural Federal University (decree no. 211 of the Government of the Russian Federation, contract no. 02.A03.21.0006).
Compliance with ethical standards
Conflict of interest
The authors declare that they have no conflict of interest.
Research involving human participants and/or animals
All procedures performed in studies involving human participants were in accordance with the 1964 Declaration of Helsinki and its later amendments or comparable ethical standards. The research was approved by the Review Board of the Institute of Ecology and Genetics of Microorganisms UB RAS (IRB00010009).
Informed consent
Written informed consent was obtained from the children's parents/guardians.
Copyright information
© Springer-Verlag Berlin Heidelberg 2017