Proof of concept of a "greener" protein purification/enrichment method based on carboxylate-terminated carbosilane dendrimer-protein interactions
Abstract
Protein sample preparation is a critical and an unsustainable step since it involves the use of tedious methods that usually require high amount of solvents. The development of new materials offers additional opportunities in protein sample preparation. This work explores, for the first time, the potential application of carboxylate-terminated carbosilane dendrimers to the purification/enrichment of proteins. Studies on dendrimer binding to proteins, based on protein fluorescence intensity and emission wavelengths measurements, demonstrated the interaction between carboxylate-terminated carbosilane dendrimers and proteins at all tested pH levels. Interactions were greatly affected by the protein itself, pH, and dendrimer concentration and generation. Especially interesting was the interaction at acidic pH since it resulted in a significant protein precipitation. Dendrimer-protein interactions were modeled observing stable complexes for all proteins. Carboxylate-terminated carbosilane dendrimers at acidic pH were successfully used in the purification/enrichment of proteins extracted from a complex sample.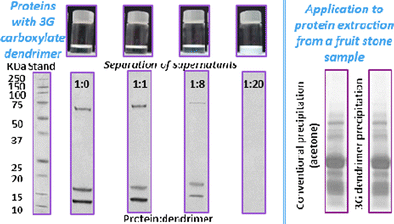 Keywords
Carboxylate-terminated carbosilane dendrimers 
Protein sample preparation 
Protein-dendrimer interaction 
Fluorescence quenching 
Computer modeling 
Molecular dynamics 
Notes
Acknowledgments
This work was supported by the Ministry of Economy and Competitiveness (ref. AGL2012-36362 and CTQ-2014-54004-P), the Comunidad de Madrid and European funding from FEDER program (ref. S2013/ABI-3028, AVANSECAL), and Consortium NANODENDMED ref. S2011/BMD-2351 (CAM). The financial support of the Czech Science Foundation (project no. GA15-05903S) is also acknowledged. E.G.-G. thanks the University of Alcalá for her pre-doctoral contract. CIBER-BBN is an initiative funded by the VI National R&D&i Plan 2008–2011, Iniciativa Ingenio 2010, Consolider Program, CIBER Actions and financed by the Instituto de Salud Carlos III with assistance from the European Regional Development Fund.
Compliance with ethical standards
Conflict of interest
The authors have no conflict of interest to declare.
Copyright information
© Springer-Verlag Berlin Heidelberg 2016