Molecularly imprinted polymer as efficient sorbent of solid-phase extraction for determination of gonyautoxin 1,4 in seawater followed by high-performance liquid chromatography-fluorescence detection
Abstract
A kind of new molecularly imprinted polymer (MIP) was synthesized by bulk polymerization using guanosine as dummy template molecule, α-methacrylic acid as functional monomer and ethylene glycol dimethyl acrylic ester as crosslinker. Fourier transform infrared spectroscopy (FT-IR) and scanning electron microscopy (SEM) showed that the MIP had homogenous and uniform-sized cavities. It was confirmed that the MIP had higher binding affinity and selectivity towards gonyautoxins 1,4 (GTX 1,4) than the non-imprinted polymer (NIP) according to the static equilibrium adsorption. An off-line molecularly imprinted solid-phase extraction (MISPE) method followed by high-performance liquid chromatography with fluorescence detection (HPLC-FLD) was established for the analysis of GTX 1,4. 0.1 mol/L acetic acid and 95:5 (v:v) methanol/water were optimized as the washing and elution solutions, respectively. The recoveries of spiked cultured seawater samples were satisfactory, as high as 88 %. Using this method, the concentrations of GTX 1,4 from cultured seawater samples of Alexandrium minutum and Alexandrium tamarense were detected to be 1.10 μg/L and 0.99 μg/L, respectively.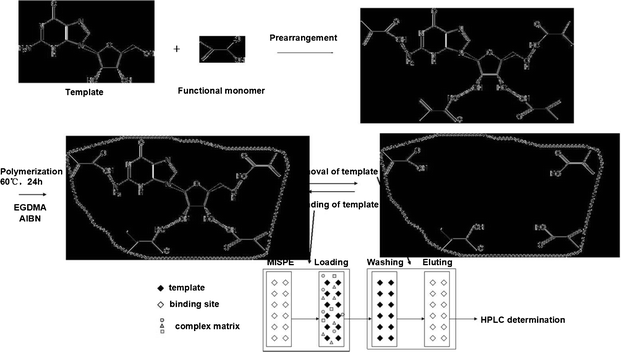 Keywords
Gonyautoxins 1,4 
Molecularly imprinted polymers 
Solid-phase extraction 
Alexandrium minutum
Alexandrium tamarense
Notes
Acknowledgments
This work was supported by National Programme on Global Change and Air-Sea Interaction under Grant number GASI-03-01-02-01 and the Public Science and Technology Research Funds Projects of Ocean under Grant number 201505034.
Compliance with ethical standards
Conflict of interest
The authors declare that they have no conflict of interest
Copyright information
© Springer-Verlag Berlin Heidelberg 2016