1H NMR-based metabolite profiling workflow to reduce inter-sample chemical shift variations in urine samples for improved biomarker discovery
Abstract
Metabolite profiling of urine has seen much advancement in recent years, and its analysis by nuclear magnetic resonance (NMR) spectroscopy has become well established. However, the highly variable nature of human urine still requires improved protocols despite some standardization. In particular, diseases such as kidney disease can have a profound effect on the composition of urine and generate a highly diverse sample set for clinical studies. Large variations in pH and the cationic concentration of urine play an important role in creating positional noise within datasets generated from NMR. We demonstrate positional noise to be a confounding variable for multivariate statistical tools such as statistical total correlation spectroscopy (STOCSY), thereby hindering the process of biomarker discovery. We present a two-dimensional buffering system using potassium fluoride (KF) and phosphate buffer to reduce positional noise in metabolomic data generated from urine samples with various levels of proteinuria. KF reduces positional noise in citrate peaks, by decreasing the mean relative standard deviation (RSD) from 0.17 to 0.09. By reducing positional noise with KF, STOCSY analysis of citrate peaks saw significant improvement. We further aligned spectral data using a recursive segment-wise peak alignment (RSPA) method, which leads to further improvement of the positional noise (RSD = 0.06). These results were validated using diverse selection of metabolites which lead to an overall improvement in positional noise using the suggested protocol. In summary, we provide an improved workflow for urine metabolite biomarker discovery to achieve higher data quality for better pathophysiological understanding of human diseases.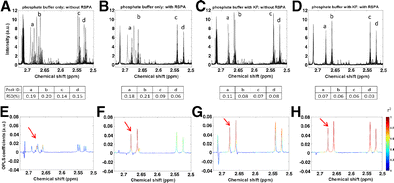 Keywords
Metabolomics 
Non-targeted 
Multivariate data analysis 
Biomarker discovery 
Urine 
Nuclear magnetic resonance spectroscopy 
Notes
Acknowledgments
The research leading to these results has received funding from the European Union's Seventh Framework Programme FP7/2007-2013 under grant agreement FP7-PEOPLE-2013-ITN-608332. We thank Kirill Veselkov from Imperial College London for the RSPA alignment script.
Compliance with ethical standards
All studies involving human participants were in accordance with the ethical standards of the institutional and/or national research committee and with the 1964 Helsinki declaration, its later amendments, or comparable ethical standards, and written informed consent was obtained. The protocol was approved by the Ethics Committee of the University Tübingen.
Conflict of interest
The authors declare that they have no competing interests.
Copyright information
© Springer-Verlag Berlin Heidelberg 2016