Gold-sputtered Blu-ray discs: simple and inexpensive SERS substrates for sensitive detection of melamine
Abstract
Nanostructured gold substrates provide chemically stable, signal-enhancing substrates for the sensitive detection of a variety of compounds through surface-enhanced Raman spectroscopy (SERS). Recent developments in advanced fabrication methods have enabled the manufacture of SERS substrates with repeatable surface nanostructures that provide reproducible quantitative analysis, historically a weakness of the SERS technique. Here, we describe the novel use of gold-sputtered Blu-ray disc surfaces as SERS substrates. The unique surface features and composition of the Blu-ray disc recording surface lead to the formation of gold nano-islands and nanogaps following simple gold sputtering, without any background peaks from the substrate. The SERS performance of this substrate is strong and reproducible with an enhancement factor (EF) of 103 for melamine. A limit of detection (LOD) for this compound of 70 ppb and average reproducibility of ±12 % were achieved. Gold-sputtered Blu-ray discs thus offer an excellent alternative to more exotic gold SERS substrates prepared by advanced, time-consuming and expensive methods.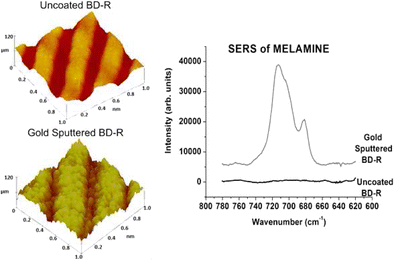 Keywords
SERS 
Blu-ray discs 
Melamine 
SERS substrates 
Notes
Acknowledgments
The support for this research from Fonterra is gratefully acknowledged. The support from the Faculty of Science at the University of Auckland and the Ministry of Business, Innovation and Employment (UOAX0812) and the assistance of Dr. Gordon Miskelly with UV-vis reflectance measurements are acknowledged.
Compliance with ethical standards
Conflict of interest
The authors declare that they have no conflict of interest.
Copyright information
© Springer-Verlag Berlin Heidelberg 2016