Ageing of resin from Pinus species assessed by infrared spectroscopy
Abstract
Resins obtained from Pinus genus species have been widely used in very different fields throughout history. As soon as the resins are secreted, molecular changes start altering their chemical, mechanical and optical properties. The ageing processes are complex, and the chemical and structural changes associated with resin degradation are not yet fully known. Many questions still remain open, for instance changes happening in pimaranes, one of the two diterpenoid constituents of the resin. A systematic study of the ageing process of Pinus resins is done through Fourier transform infrared spectroscopy (FTIR) using chemical standards and complementing the obtained results with gas chromatography coupled to mass spectrometry (GC/MS) analysis when necessary. Moreover, long-term degradation processes are also investigated through the analysis of a selection of dated historical resins. This study overcomes the limitations of GC/MS and brings new information about the reactions and interactions between molecules during Pinus resin ageing processes. It also provides information about which bonds are affected and unaffected, and these can be used as specific markers of the degradation and of the resins themselves.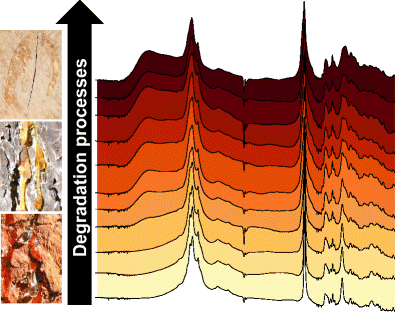 Keywords
Diterpenic resin 
IR spectroscopy 
Pinus resin 
Ageing 
Abietanes 
Pimaranes 
Notes
Acknowledgements
We acknowledge the financial support received for the development of this study from MINECO (Spain), grant MAT2013-41127-R and Generalitat de Catalunya, grant 2014SGR-581.
We would like to thank the Centre de Restauració de Bens Mobles de Catalunya (CRBMC) for their help with the chromatographic analysis and for supplying the artwork samples. Also we would like to thank David Bertran Chavarria, curator of Jardí Botànic de Barcelona, for supplying the fresh resin samples and the Economic Botany Collection of the Royal Botanic Gardens, Kew, in London, for supplying dated ancient resins.
Compliance with ethical standards
Conflicts of interest
The authors declare that they have no conflict of interest.
Copyright information
© Springer-Verlag Berlin Heidelberg 2016