Single particle analysis of herpes simplex virus: comparing the dimensions of one and the same virions via atomic force and scanning electron microscopy
Abstract
Currently, two types of direct methods to characterize and identify single virions are available: electron microscopy (EM) and scanning probe techniques, especially atomic force microscopy (AFM). AFM in particular provides morphologic information even of the ultrastructure of viral specimens without the need to cultivate the virus and to invasively alter the sample prior to the measurements. Thus, AFM can play a critical role as a frontline method in diagnostic virology. Interestingly, varying morphological parameters for virions of the same type can be found in the literature, depending on whether AFM or EM was employed and according to the respective experimental conditions during the AFM measurements. Here, an inter-methodological proof of principle is presented, in which the same single virions of herpes simplex virus 1 were probed by AFM previously and after they were measured by scanning electron microscopy (SEM). Sophisticated chemometric analyses then allowed a calculation of morphological parameters of the ensemble of single virions and a comparison thereof. A distinct decrease in the virions' dimensions was found during as well as after the SEM analyses and could be attributed to the sample preparation for the SEM measurements.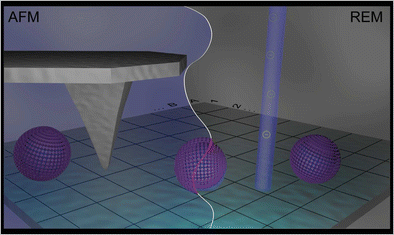 Keywords
Atomic force microscopy 
Scanning electron microscopy 
Herpes simplex virus
Image analysis 
Notes
Acknowledgments
Financial support of the research from the EU via the project "HemoSpec" (FP 7, CN 611682), from the Thüringer Aufbaubank under the support codes 2011FE9051 and 2011SE9048 ("FastVirus") as well as from COST Action MP1302 Nanospectroscopy is gratefully acknowledged. We thank Steffen Trautmann for creating the primary scheme of viruses for the table of content figure/graphical abstract.
Compliance with ethical standards
Conflict of interest
The authors declare that they have no competing interests.
Copyright information
© Springer-Verlag Berlin Heidelberg 2016