A primerless molecular diagnostic: phosphorothioated-terminal hairpin formation and self-priming extension (PS-THSP)
Part of the following topical collections:
Abstract
There are various ways that priming can occur in nucleic acid amplification reactions. While most reactions rely on a primer to initiate amplification, a mechanism for DNA amplification has been developed in which hairpin sequences at the 3' terminus of a single-stranded oligonucleotide fold on themselves to initiate priming. Unfortunately, this method is less useful for diagnostic applications because the self-folding efficiency is low and only works over a narrow range of reaction temperatures. In order to adapt this strategy for analytical applications we have developed a variant that we term phosphorothioated-terminal hairpin formation and self-priming extension (PS-THSP). In PS-THSP a phosphorothioate (PS) modification is incorporated into the DNA backbone, leading to a reduction in the thermal stability of dsDNA and increased self-folding of terminal hairpins. By optimizing the number of PS linkages that are included in the initial template, we greatly increased self-folding efficiency and the range of reaction temperatures, ultimately achieving a detection limit of 1 pM. This improved method was readily adapted to the detection of single nucleotide polymorphisms and to the detection of non-nucleic acid analytes, such as alkaline phosphatase, which was quantitatively detected at a limit of 0.05 mU/mL, approximately 10-fold better than commercial assays.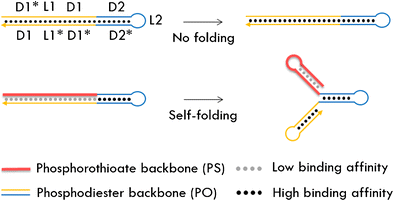 Keywords
PS-THSP 
Self-folding 
Isothermal amplification 
Phosphorothioate 
Notes
Acknowledgments
This work was supported by the National Institutes of Health [5 R01 AI092839, 5 R01 GM094933]. We sincerely thank Caitlin Sanford for her editing services.
Compliance with ethical standards
Conflict of interest
The authors declare that they have no competing interests.
Copyright information
© Springer-Verlag Berlin Heidelberg 2016