A universal SI-traceable isotope dilution mass spectrometry method for protein quantitation in a matrix by tandem mass tag technology
Abstract
Isotope dilution mass spectrometry (IDMS), an important metrological method, is widely used for absolute quantification of peptides and proteins. IDMS employs an isotope-labeled peptide or protein as an internal standard although the use of a protein provides improved accuracy. Generally, the isotope-labeled protein is obtained by stable isotope labeling by amino acids in cell culture (SILAC) technology. However, SILAC is expensive, laborious, and time-consuming. To overcome these drawbacks, a novel universal SI-traceable IDMS method for absolute quantification of proteins in a matrix is described with human transferrin (hTRF). The hTRF and a human serum sample were labeled with different tandem mass tags (TMTs). After mixing the TMT-labeled hTRF and serum sample together followed by digestion, the peptides were separated by nano-liquid chromatography and analyzed by matrix-assisted laser desorption ionization time-of-flight mass spectrometry (MALDI-TOF-MS). Using the signature peptides, we calculated the ratios of reporter ions from the TMT-labeled peptides which, in turn, allowed determination of the mass fraction of hTRF. The recovery ranged from 97 % to 105 % with a CV of 3.9 %. The LOD and LOQ were 1.71 × 10−5 g/g and 5.69 × 10−5 g/g of hTRF in human serum, respectively, and the relative expanded uncertainty was 4.7 % with a mass fraction of 2.08 mg/g. For comparison, an enzyme-linked immunosorbent assay (ELISA) method for hTRF yielded a mass fraction of 2.03 mg/g. This method provides a starting point for establishing IDMS technology to accurately determine the mass fractions of protein biomarkers in a matrix with traceability to SI units. This technology should support the development of a metrological method useful for quantification of a wide variety of proteins.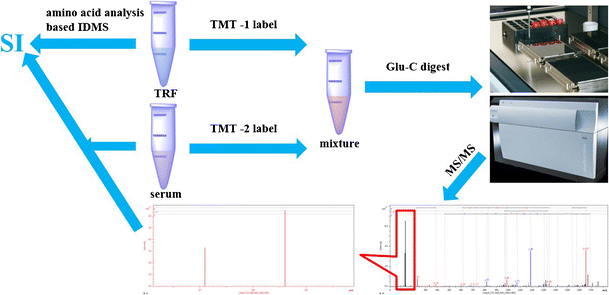 Keywords
SI-traceable 
Isotope dilution mass spectrometry method 
Protein quantitation 
Tandem mass tag technology 
Abbreviations
ACN

Acetonitrile

CHCA

(R)-cyano-4-hydroxycinnamic acid

CID

Collision-induced dissociation

CRM

Certified reference material

CV

Coefficient of variation

ELISA

Enzyme-linked immunosorbent assay

HSA

Human serum albumin

hGH

Human growth hormone

hCG

Human chorionic gonadotropin

hTRF

Human transferrin

ICP-MS

Inductively coupled plasma mass spectrometry

IDMS

Isotope dilution mass spectrometry

LOD

Limit of detection

LOQ

Limit of quantification

MALDI-TOF-MS

Matrix-assisted laser desorption ionization time-of-flight mass spectrometry

SA

Sinapinic acid

SDS

Sodium dodecyl sulfate

SILAC

Stable isotope labeling by amino acids in cell culture

TEAB

Triethylammonium bicarbonate

TFA

Trifluoroacetic acid

TMTs

Tandem mass tags
Notes
Acknowledgments
This work is part of the project funded by the Administration of Quality Supervision, Inspection and Quarantine of the People's Republic of China (AQSIQ, grant no. 201310008) and National Institute of Metrology, China (NIM, grant no. AKY1413).
Compliance with ethical standards
Conflict of interest
The authors declare that they have no conflict of interest.
Ethical consent
Human serum samples were collected from the healthy volunteers after taking their written consent and the approval by the ethical committee of the institute.
Copyright information
© Springer-Verlag Berlin Heidelberg 2016