TransOmic analysis of forebrain sections in Sp2 conditional knockout embryonic mice using IR-MALDESI imaging of lipids and LC-MS/MS label-free proteomics
Abstract
Quantitative methods for detection of biological molecules are needed more than ever before in the emerging age of "omics" and "big data." Here, we provide an integrated approach for systematic analysis of the "lipidome" in tissue. To test our approach in a biological context, we utilized brain tissue selectively deficient for the transcription factor Specificity Protein 2 (Sp2). Conditional deletion of Sp2 in the mouse cerebral cortex results in developmental deficiencies including disruption of lipid metabolism. Silver (Ag) cationization was implemented for infrared matrix-assisted laser desorption electrospray ionization (IR-MALDESI) to enhance the ion abundances for olefinic lipids, as these have been linked to regulation by Sp2. Combining Ag-doped and conventional IR-MALDESI imaging, this approach was extended to IR-MALDESI imaging of embryonic mouse brains. Further, our imaging technique was combined with bottom-up shotgun proteomic LC-MS/MS analysis and western blot for comparing Sp2 conditional knockout (Sp2-cKO) and wild-type (WT) cortices of tissue sections. This provided an integrated omics dataset which revealed many specific changes to fundamental cellular processes and biosynthetic pathways. In particular, step-specific altered abundances of nucleotides, lipids, and associated proteins were observed in the cerebral cortices of Sp2-cKO embryos.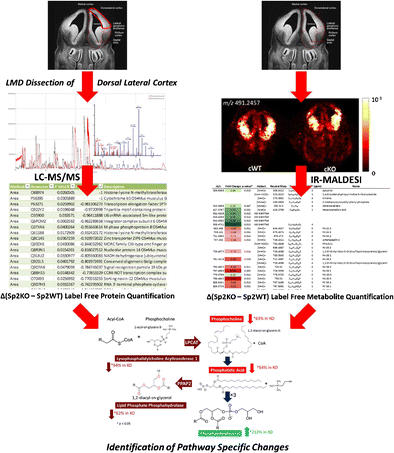 Keywords
IR-MALDESI 
Proteomics 
Lipidomics 
Mass spectrometry imaging 
Embryonic brain 
Notes
Acknowledgments
This work was supported by NIH R01NS089795 (HTG), NIH R01GM087964 (DCM), and the NIH/NCSU Molecular Biotechnology Training Grant 5T32GM00-8776-08 (PL). FM acknowledges travel funding from DAAD (German Academic Exchange Service).
Compliance with ethical standards
The authors declare that they have no conflicts of interest. Mice used in this study were bred and housed in the College of Veterinary Medicine vivarium according to Institutional Animal Care and Use Committee (IACUC), North Carolina State University regulations, and Public Health Service (PHS) Policy on Humane Care and Use of Laboratory Animals.
Copyright information
© Springer-Verlag Berlin Heidelberg 2016