Emerging scanning probe approaches to the measurement of ionic reactivity at energy storage materials
Part of the following topical collections:
Abstract
Many modern energy storage technologies operate via the nominally reversible shuttling of alkali ions between an anode and a cathode capable of hosting them. The degradation process that occurs with normal usage is not yet fully understood, but emerging progress in analytical tools may help address this knowledge gap. By interrogating ionic fluxes over electrified surfaces, scanning probe methods may identify features that impact the local cyclability of a material and subsequently help inform rational electrode design for future generations of batteries. Methods developed for identifying ion fluxes for batteries show great promise for broader applications, including biological interfaces, corrosion, and catalysis.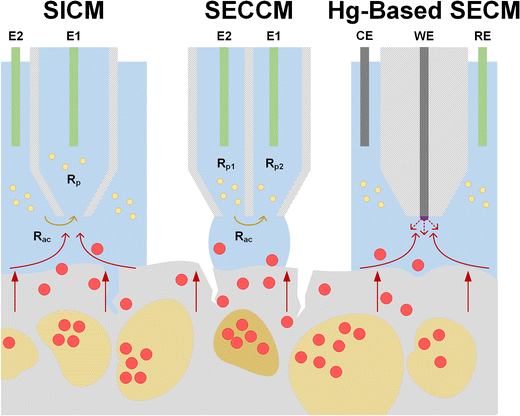 Keywords
Electroanalytical methods 
Electrochemical sensors 
Li-ion batteries 
SECCM 
SECM 
SICM 
Stripping analysis 
Notes
Acknowledgements
Z.J.B. acknowledges the support of the National Science Foundation Graduate Research Fellowship Program (DGE-1144245). Any opinions, findings, and conclusions or recommendations expressed in this material are those of the authors and do not necessarily reflect the views of the National Science Foundation. J. R.-L. acknowledges support from the Joint Center for Energy Storage Research, an Energy Innovation Hub funded by the US Department of Energy, Office of Science, Basic Energy Sciences. The authors also thank UIUC for generous start-up funds.
Compliance with ethical standards
Conflict of Interest
The authors declare no conflict of interest.
Copyright information
© Springer-Verlag Berlin Heidelberg 2016