Evaluation of a commercial electro-kinetically pumped sheath-flow nanospray interface coupled to an automated capillary zone electrophoresis system
Abstract
Capillary zone electrophoresis-electrospray ionization-mass spectrometry (CZE-ESI-MS) is attracting renewed attention for proteomic and metabolomic analysis. An important reason for this interest is the maturation and commercialization of interfaces for coupling CZE with ESI-MS. One of these interfaces is an electro-kinetically pumped sheath flow nanospray interface developed by the Dovichi group, in which a very low sheath flow is generated based on electroosmosis within a glass emitter. CMP Scientific has commercialized this interface as the EMASS-II ion source. In this work, we compared the performance of the EMASS-II ion source with our in-house system. The performance of the systems is equivalent. We also coupled the EMASS-II ion source with a PrinCE Next|480 capillary electrophoresis autosampler and an Orbitrap mass spectrometer, and analyzed this system's performance in terms of sensitivity, reproducibility, and separation performance for separation of tryptic digests, intact proteins, and amino acids. The system produced reproducible analysis of BSA digest; the RSDs of peptide intensity and migration time across 24 runs were less than 20 and 6%, respectively. The system produced a linear calibration curve of intensity across a 30-fold range of tryptic digest concentration. The combination of a commercial autosampler and electrospray interface efficiently separated amino acids, peptides, and intact proteins, and only required 5 μL of sample for analysis.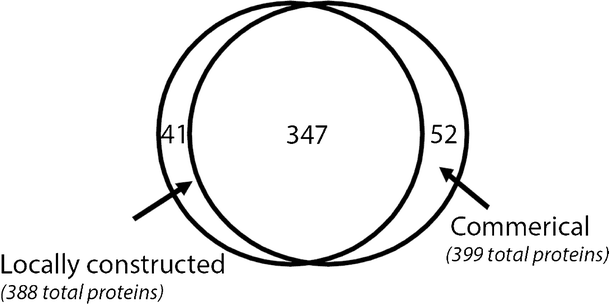 Keywords
Electro-kinetically pumped sheath flow interface 
EMASS-II CE-MS interface 
Automated capillary zone electrophoresis-mass spectrometry 
Proteomics 
Intact protein analysis 
Notes
Acknowledgments
We give a special thanks to Prince Technologies, especially the Service Department (Sean Katuin and Harry Buning), for their partnership and troubleshooting expertise during experiment design and testing. We also give a special thanks to CMP Scientific, Corp. for providing the EMASS-II CE-MS interface for the experiments. We thank Drs. William Boggess and Matthew Champion in the Notre Dame Mass Spectrometry and Proteomics Facility for their help with this project. This project was supported by a grant from the National Institutes of Health (R01GM096767). EHP acknowledges support from the National Science Foundation Graduate Research Fellowship program (2015–2018).
Compliance with ethical standards
Conflict of interest
Norman J. Dovichi, Liangliang Sun, and Guije Zhu are co-inventors on patents describing the electrospray interface and receive royalties on the sale of the CMP interface. Elizabeth H. Peuchen declares no conflict of interest.
Research involving animals
All animal procedures were performed according to protocols approved by the University of Notre Dame Institutional Animal Care and Use Committee.
Copyright information
© Springer-Verlag Berlin Heidelberg 2016