Matrix-assisted laser desorption/ionization imaging mass spectrometry reveals changes of phospholipid distribution in induced pluripotent stem cell colony differentiation
Abstract
Induced pluripotent stem cells (iPSCs) are opening up new possibilities for medicine. Understanding the regulation of iPSC biology is important when attempting to apply these cells to disease models or therapy. Changes of lipid metabolism in iPSCs were investigated by matrix-assisted laser desorption/ionization time-of-flight imaging mass spectrometry (MALDI-TOF-IMS). Analysis revealed changes of the intensity and distribution of peaks at m/z 782.5 and 798.5 in iPSC colonies during spontaneous differentiation. Two phosphatidylcholines (PCs) were identified: C44H81NO8P, PC(36:4)[M+H]+ at m/z 782.5 and C42H82NO8P, PC(34:1)[M+K]+ at m/z 798.5. The intensity of PC(36:4) showed an inverse relation between undifferentiated and differentiated iPSC colonies. PC(34:1) displayed a diffuse distribution in undifferentiated iPSC colonies, while it showed a concentric distribution in differentiated iPSC colonies, and was localized at the border of the differentiated and undifferentiated areas or the border between undifferentiated iPSC and feeder cells. These findings suggested that the distribution of lipids changes during the growth and differentiation of iPSCs and that MALDI-TOF-IMS was useful for analyzing these changes. PC(36:4) might play a role in maintaining pluripotency, while PC(34:1) might play a role in the differentiation and spread of iPSCs.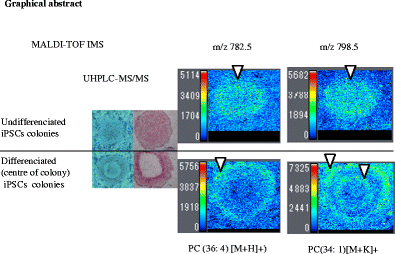 Keywords
iPS 
Phospholipids 
Phosphatidylcholine 
MALDI 
Imaging 
Differentiation 
Notes
Acknowledgments
This work was partly supported by a grant-in-aid for the MEXT KAKENHI Grant, Japan (S1412001) and JSPS KAKENHI Grant, Japan (16K09553). The authors are grateful to Isao Asaka [Center for iPS Cell Research and Application (CiRA), Kyoto University] for advice on iPSC culture and to Satomi Tateno, Mio Maekawa, and Sachiko Nakadate (Department of Pharmacology and Toxicology, Dokkyo Medical University) for assistance with iMscope analysis, as well as Akiko Horigane (Department of Pulmonary Medicine and Clinical Immunology) for assistance with cell culture.
Compliance with ethical standards
Conflict of interest
The authors declare that they have no conflict of interests.
Copyright information
© Springer-Verlag Berlin Heidelberg 2016