Toward faster and higher resolution LA–ICPMS imaging: on the co-evolution of LA cell design and ICPMS instrumentation
Part of the following topical collections:
Abstract
We describe trends in fast, high resolution elemental imaging by laser ablation–inductively coupled plasma mass spectrometry (LA–ICPMS). Recently developed low dispersion LA cells deliver quantitative transport of ablated aerosols within 10 ms and also provide enhanced sensitivity compared to conventional LA cells because the analyte ion signal becomes less diluted during aerosol transport. When connected to simultaneous ICPMS instruments, these low dispersion LA cells offer a platform for high speed and high lateral resolution shot-resolved LA–ICPMS imaging. Here, we examine the current paradigms of LA–ICPMS imaging and discuss how newly developed LA cell technology combined with simultaneous ICPMS instrumentation is poised to overcome current instrumental limitations to deliver faster, higher resolution elemental imaging.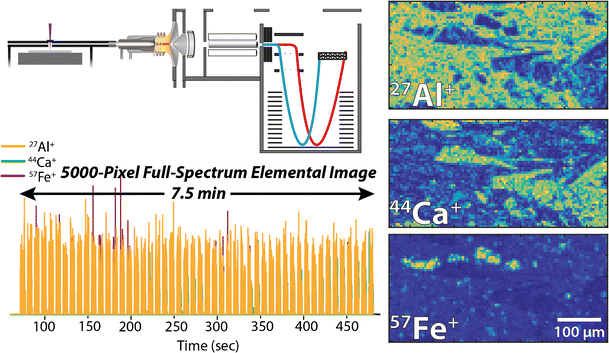 Keywords
Laser ablation 
ICPMS 
Elemental imaging 
Mass spectrometry 
Time-of-flight 
Notes
Acknowledgments
Alex Gundlach-Graham would like to acknowledge financial support through the Marie Curie International Incoming Fellowship: the research leading to these results has received funding from the European Union Seventh Framework Programme (FP7/2007-2013) under grant agreement no. 624280. A.G.-G. thanks Gunnar Schwarz for helpful critiques and comments on an early version of this manuscript. We would also like the acknowledge the work of Marcel Burger, Steffen Allner, Luzia Gyr, and Dr. Hao Wang for contribution to collection and analysis of the LA–ICP–TOFMS data presented here, and Dr. Daniel Grolimund for providing the cesium-infiltrated Opalinus clay sample.
Compliance with ethical standards
The authors declare no conflicts of interest.
Copyright information
© Springer-Verlag Berlin Heidelberg 2016