Surface-enhanced Raman spectroscopy in 3D electrospun nanofiber mats coated with gold nanorods
Part of the following topical collections:
Abstract
Nanofibers functionalized by metal nanostructures and particles are exploited as effective flexible substrates for surface-enhanced Raman scattering (SERS) analysis. Their complex three-dimensional structure may provide Raman signals enhanced by orders of magnitude compared to untextured surfaces. Understanding the origin of such improved performances is therefore very important for pushing nanofiber-based analytical technologies to their upper limit. Here, we report on polymer nanofiber mats which can be exploited as substrates for enhancing the Raman spectra of adsorbed probe molecules. The increased surface area and the scattering of light in the nanofibrous system are individually analyzed as mechanisms to enhance Raman scattering. The deposition of gold nanorods on the fibers further amplifies Raman signals due to SERS. This study suggests that Raman signals can be finely tuned in intensity and effectively enhanced in nanofiber mats and arrays by properly tailoring the architecture, composition, and light-scattering properties of the complex networks of filaments.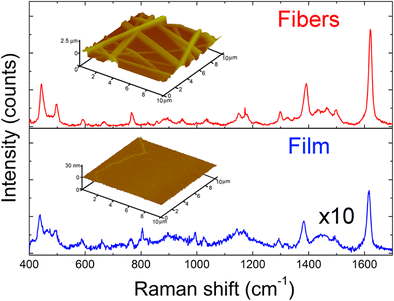 Keywords
Electrospinning 
Nanofibers 
Raman spectroscopy 
SERS 
Au Nanorods 
Notes
Acknowledgments
We thank A. Foti, B. Fazio, and M. G. Donato for fruitful discussions. We acknowledge the Italian Ministry of Education, University and Research (MIUR), "Programma Operativo Nazionale Ricerca e Competitività" 2007–2013 e "Piano di Azione e Coesione", project PAC02L3_00087 "SOCIAL-NANO." A.C., M.M., L.P., and D.P. also thank the support from the European Research Council under the European Union's Seventh Framework Programme (FP/2007–2013)/ERC Grant Agreement n. 306357 ("NANO-JETS"). The Apulia Networks of Public Research Laboratories Wafitech (09) and M. I. T. T. (13) are also acknowledged.
Compliance with ethical standards
Conflict of interest
The authors declare no competing financial interest. Andrea Camposeo and Luana Persano are the founders of Soft Materials and Technologies SRL.
Copyright information
© Springer-Verlag Berlin Heidelberg 2015