Ultrasensitive electrospun fluorescent nanofibrous membrane for rapid visual colorimetric detection of H2O2
Part of the following topical collections:
Abstract
We report herein a flexible fluorescent nanofibrous membrane (FNFM) prepared by decorating the gold nanocluster (AuNC) on electrospun polysulfone nanofibrous membrane for rapid visual colorimetric detection of H2O2. The provision of AuNC coupled to NFM has proven to be advantageous for facile and quick visualization of the obtained results, permitting instant, selective, and on-site detection. We strongly suggest that the fast response time is ascribed to the enhanced probabilities of interaction with AuNC located at the surface of NF. It has been observed that the color change from red to blue is dependent on the concentration, which is exclusively selective for hydrogen peroxide. The detection limit has been found to be 500 nM using confocal laser scanning microscope (CLSM), visually recognizable with good accuracy and stability. A systematic comparison was performed between the sensing performance of FNFM and AuNC solution. The underlying sensing mechanism is demonstrated using UV spectra, transmission electron microscopy (TEM), and X-ray photoelectron spectroscopy (XPS). The corresponding disappearance of the characteristic emissions of gold nanoclusters and the emergence of a localized surface plasmon resonance (LSPR) band, stressing this unique characteristic of gold nanoparticles. Hence, it is evident that the conversion of nanoparticles from nanoclusters has taken place in the presence of H2O2. Our work here has paved a new path for the detection of bioanalytes, highlighting the merits of rapid readout, sensitivity, and user-friendliness.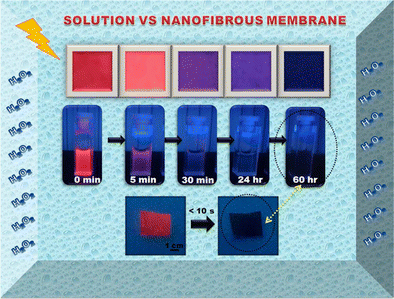 Keyword
Electrospinning 
Nanofiber 
Gold nanocluster 
Fluorescence 
Hydrogen peroxide 
Sensor 
Notes
Acknowledgments
S.A. and B.B. thank the Scientific and Technological Research Council of Turkey (TÜBITAK) (TÜBITAK-BIDEB 2216, Research Fellowship Programme for Foreign Citizens) for postdoctoral fellowship funding. Z.A. thanks to TUBITAK-BIDEB (2211-C) for national PhD scholarship and TUBITAK (project no. 213 M185) for PhD scholarship. T.U acknowledges funding support of FP7-Marie Curie International Reintegration Grant (IRG) for funding NANOWEB (PIRG06-GA-2009-256428) and partial support of The Turkish Academy of Sciences – Outstanding Young Scientists Award Program (TUBA-GEBIP). The authors thank M. Guler for TEM-STEM technical support.
Compliance with ethical standards
Conflict of interest
The authors declare that they have no conflict of interest.
Copyright information
© Springer-Verlag Berlin Heidelberg 2015