Screening of pharmaceuticals and illicit drugs in wastewater and surface waters of Spain and Italy by high resolution mass spectrometry using UHPLC-QTOF MS and LC-LTQ-Orbitrap MS
Abstract
The existence of pharmaceuticals and illicit drugs (PIDs) in environmental waters has led many analytical chemists to develop screening methods for monitoring purposes. Water samples can contain a huge number of possible contaminants, commonly at low concentrations, which makes their detection and identification problematic. Liquid chromatography coupled with high resolution mass spectrometry (LC-HRMS) has proven itself effective in the screening of environmental contaminants. The present work investigates the use of the most popular HRMS instruments, quadrupole time-of-flight and linear trap quadrupole-Orbitrap, from two different laboratories. A suspect screening for PIDs was carried out on wastewater (influent and effluent) and surface water samples from Castellón, Eastern Spain, and Cremona, Northern Italy, incorporating a database of 107 PIDs (including 220 fragment ions). A comparison between the findings of both instruments and of the samples was made which highlights the advantages and drawbacks of the strategies applied in each case. In total, 28 compounds were detected and/or identified by either/both instruments with irbesartan, valsartan, benzoylecgonine and caffeine being the most commonly found compounds across all samples.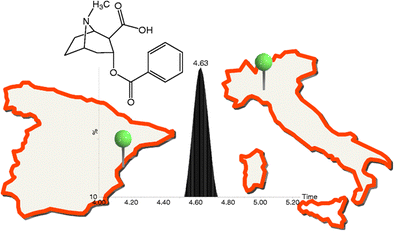 Keywords
Liquid chromatography 
Screening 
Pharmaceuticals 
Illicit drugs 
High resolution mass spectrometry 
Notes
Acknowledgments
R. Bade, N. I. Rousis and E. Gracia-Lor acknowledge the European Union's International Training Network SEWPROF (Marie Curie-FP7-PEOPLE Grant no. 317205) for their Early Stage Researcher (R. Bade and N. I. Rousis) and Experienced Researcher (E. Gracia-Lor) contracts. The financial support from the Spanish Ministry of Economy and Competitiveness (Ref CTQ2012-36189) and Generalitat Valenciana, Spain (research group of excellence PROMETEO II/2014/023; ISIC 2012/016) is also acknowledged.
We would like to thank Thermo Scientific who provided the software TraceFinder and particularly Claudia Martins for technical support.
Conflict of interest
The authors declare that they have no competing interests.
Copyright information
© Springer-Verlag Berlin Heidelberg 2015