Quantitative SERS studies by combining LOC-SERS with the standard addition method
Abstract
Here, we report on a proof-of-concept study highlighting a new approach for quantitative surface enhanced Raman spectroscopy (SERS) measurements. This has been achieved by implementing the standard addition method (SAM) within a lab-on-a-chip (LOC) system. The approach has been successfully tested to quantify congo red as a model analyte even in the presence of the chemically related molecule methyl red. Thus, the developed concept demonstrates its potential to quantify analytes via SERS in the presence of other SERS active molecules.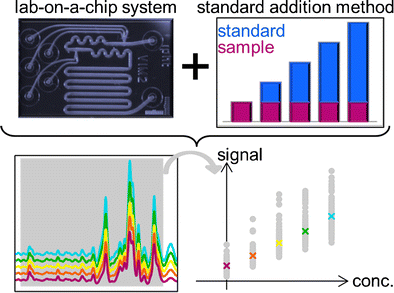 Keywords
SERS 
Lab-on-a-chip 
Standard addition method 
Congo red 
Notes
Acknowledgments
This research was supported by the Free State of Thuringia and the European Union (EFRE) under support code 13022-715 (BioInter) and by the Federal Ministry of Education and Research under support code 03IPT513Y (InnoProfile-Transfer Nachwuchsgruppe: Jenaer Biochip Initiative 2.0). We gratefully acknowledge the microfluidic group of the IPHT (Institute of Photonic Technology, Germany) and in particular Eileen Heinrich for the fabrication and regeneration of the microfluidic chips.
Conflict of interest
The authors declare that they have no competing interests.
Copyright information
© Springer-Verlag Berlin Heidelberg 2015