Human sweat metabolomics for lung cancer screening
Abstract
Sweat is one of the less employed biofluids for discovery of markers in spite of its increased application in medicine for detection of drugs or for diagnostic of cystic fibrosis. In this research, human sweat was used as clinical sample to develop a screening tool for lung cancer, which is the carcinogenic disease with the highest mortality rate owing to the advanced stage at which it is usually detected. In this context, a method based on the metabolite analysis of sweat to discriminate between patients with lung cancer versus smokers as control individuals is proposed. The capability of the metabolites identified in sweat to discriminate between both groups of individuals was studied and, among them, a trisaccharide phosphate presented the best independent performance in terms of the specificity/sensitivity pair (80 and 72.7 %, respectively). Additionally, two panels of metabolites were configured using the PanelomiX tool as an attempt to reduce false negatives (at least 80 % specificity) and false positives (at least 80 % sensitivity). The first panel (80 % specificity and 69 % sensitivity) was composed by suberic acid, a tetrahexose, and a trihexose, while the second panel (69 % specificity and 80 % sensitivity) included nonanedioic acid, a trihexose, and the monoglyceride MG(22:2). Thus, the combination of the five metabolites led to a single panel providing 80 % specificity and 79 % sensitivity, reducing the false positive and negative rates to almost 20 %. The method was validated by estimation of within-day and between-days variability of the quantitative analysis of the five metabolites.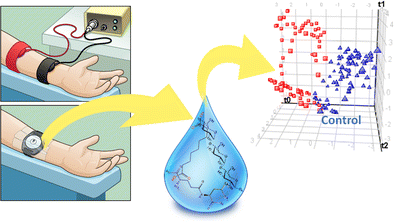 Keywords
Metabolomics 
Lung cancer 
Human sweat 
LC–QTOF 
Biomarker panel 
Mass spectrometry 
Notes
Acknowledgments
The Spanish Ministerio de Economía y Competitividad (MINECO) and the FEDER Program (project no. CTQ2012-37428), and the Junta de Andalucía through an Excellence project (FQM-1602) are gratefully acknowledged for financial support. F. Priego-Capote is also grateful to the Ministerio de Ciencia e Innovación (MICINN) for a Ramón y Cajal Contract (RYC-2009-03921). M. Calderón-Santiago also thanks the MICINN for an FPU scholarship (AP2009-0499). The Reina Sofía Hospital (Córdoba, Spain) is also grateful to donors of sweat samples.
Contribution to the overall work
M. Calderón-Santiago, F. Priego-Capote, and M. D. Luque de Castro developed and applied the method, and organized and wrote the manuscript.
B. Jurado-Gámez provided the samples and participated in the discussion of the manuscript.
N. Turck, X. Robin, and J.C. Sanchez contributed with the development of panels and participated in the discussion of the manuscript.
Copyright information
© Springer-Verlag Berlin Heidelberg 2015