Non-target screening with high-resolution mass spectrometry: critical review using a collaborative trial on water analysis
Part of the following topical collections:
Abstract
In this article, a dataset from a collaborative non-target screening trial organised by the NORMAN Association is used to review the state-of-the-art and discuss future perspectives of non-target screening using high-resolution mass spectrometry in water analysis. A total of 18 institutes from 12 European countries analysed an extract of the same water sample collected from the River Danube with either one or both of liquid and gas chromatography coupled with mass spectrometry detection. This article focuses mainly on the use of high resolution screening techniques with target, suspect, and non-target workflows to identify substances in environmental samples. Specific examples are given to emphasise major challenges including isobaric and co-eluting substances, dependence on target and suspect lists, formula assignment, the use of retention information, and the confidence of identification. Approaches and methods applicable to unit resolution data are also discussed. Although most substances were identified using high resolution data with target and suspect-screening approaches, some participants proposed tentative non-target identifications. This comprehensive dataset revealed that non-target analytical techniques are already substantially harmonised between the participants, but the data processing remains time-consuming. Although the objective of a "fully-automated identification workflow" remains elusive in the short term, important steps in this direction have been taken, exemplified by the growing popularity of suspect screening approaches. Major recommendations to improve non-target screening include better integration and connection of desired features into software packages, the exchange of target and suspect lists, and the contribution of more spectra from standard substances into (openly accessible) databases.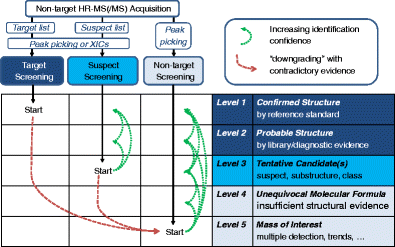 Keywords
Non-target screening 
High resolution mass spectrometry 
LC–MS 
GC–MS 
Suspect screening 
Surface water 
Notes
Acknowledgments
The authors gratefully acknowledge the contributions of many others who helped during the analysis, reporting and discussion of the results presented here: Philipp Longree, Martin Loos, Matthias Ruff and Jennifer Schollee (Eawag), Margit Petre, Anett Kloß and Werner Brack (UFZ), Reza Aalizadeh, Nikiforos Alygizakis and Pablo Gago Ferrero (University of Athens), Sylvain Merel (University of Tübingen), Alexander van Nuijs, Alin Ionas and Adrian Covaci (University of Antwerp), Martijn Pijnappels (Rijkswaterstaat), Christelle Margoum (Irstea), Claudio Bortolini (University of Padua), Marie-Hélène Devier and Hélène Budzinski (University of Bordeaux, France), Christophe Tondelier and Mathilde Chachignon (VERI), Tobias Bader and Thomas Lucke (Zweckverband Landeswasserversorgung), Michael Schlüsener (BfG), Mar Esperanza (Suez Environnement), Siniša Repec (Croatian Waters), Peter Tarabek (Slovak National Water Reference Laboratory), Christoph Ruttkies (IPB, Halle, Germany), the ChemSpider support team, and Thierry Faye from Agilent. The water sample of the Danube was kindly provided by the International Commission for the Protection of the Danube River (IPCDR) as part of the Joint Danube Survey 3. Author contributions: ELS, HPS, JS, IMI, PO, MK, TS, PH, TL, SG, NST, CZ, and JH were involved in the core team preparing the trial, evaluation, workshop, and publication; MI, TP, RdB, MR, MO, UK, WS, AG, NN, GL, PB, SB, DS, and PR participated in the trial and publication efforts.
This trial was initiated by the NORMAN Association with in-kind contributions from participants; no fee was charged for participation. This work was supported in part by the SOLUTIONS project, which received funding from the European Union's Seventh Framework Programme for research, technological development and demonstration under Grant Agreement No. 603437.
Compliance with ethical standards
ᅟ
Conflict of Interest
The authors declare that they have no conflict of interest.
Human and Animal Rights and Informed Consent
No violation of human or animal rights occurred during this investigation.
Copyright information
© Springer-Verlag Berlin Heidelberg 2015