Nanometer-sized materials for solid-phase extraction of trace elements
Abstract
This review presents a comprehensive update on the state-of-the-art of nanometer-sized materials in solid-phase extraction (SPE) of trace elements followed by atomic-spectrometry detection. Zero-dimensional nanomaterials (fullerene), one-dimensional nanomaterials (carbon nanotubes, inorganic nanotubes, and nanowires), two-dimensional nanomaterials (nanofibers), and three-dimensional nanomaterials (nanoparticles, mesoporous nanoparticles, magnetic nanoparticles, and dendrimers) for SPE are discussed, with their application for trace-element analysis and their speciation in different matrices. A variety of other novel SPE sorbents, including restricted-access sorbents, ion-imprinted polymers, and metal–organic frameworks, are also discussed, although their applications in trace-element analysis are relatively scarce so far.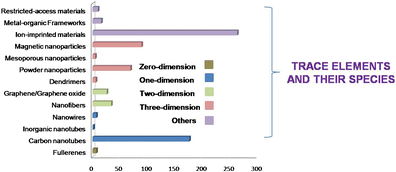 Keywords
Review 
Nanometer-sized materials 
Solid-phase extraction 
Trace-element analysis 
Atomic spectrometry 
Abbreviations
8-HQ

8-Hydroxyquinoline

ADS

Alkyl-diol silica

AMT

2-Amino-5-mercapto-1,3,4-thiadiazole

APDC

Ammonium pyrrolidinedithiocarbamate

APTES

3-Aminopropyltriethoxysilane

BMSAPD

bis(4-Methoxysalicylaldehyde)-1,2-phenylenediamine

BTEX

Benzene, toluene, ethylbenzene, and xylenes

CNFs

Carbon nanofibers

CNTs

Carbon nanotubes

CPBr

Cetylpyridinium bromide

CTAB

Cetyltrimethylammonium bromide

DDE

Dichlorodiphenyldichloroethylene

DMSA

Dimercaptosuccinic acid

DTZ

Dithizone

ETAAS

Electrothermal atomic-absorption spectrometry

ETV

Electrothermal vaporization

FAAS

Flame atomic-absorption spectrometry

FGO

Few-layered graphene oxide

FI

Flow injection

GC-FID

Gas chromatography-flame ionization detection

GC–MS

Gas chromatography–mass spectrometry

GO

Graphene oxide

HS-SPME

Headspace solid-phase microextraction

ICP-OES

Inductively-coupled-plasma optical-emission spectrometry

IDA

Iminodiacetic acid

IIPs

Ion-imprinted polymers

LC

Liquid chromatography

MIPs

Molecular-imprinted polymers

MOFs

Metal–organic frameworks

MT

Metallothionein

MWCNTs

Multi-wall carbon nanotubes

NaDDC

Sodium diethyldithiocarbamate

o,p′-DDT

1,1,1-Trichloro-2-(o-chlorophenyl)-2-(p-chlorophenyl)ethane

p,p′-DDT

1,1,1-Trichloro-2,2-bis(4-chlorophenyl)ethane

PAHs

Poly-aromatic hydrocarbons

PAMAM

Poly(amidoamine)

PAN

1-(2-Pyridylazo)-2-naphthol

PbO2

Lead dioxide

PMBP

1-Phenyl-3-methyl-4-benzoyl-2-pyrazolin-5-one

PPy

Polypyrrole

PSS

Sulfonated polystyrene

RAM

Restricted-access materials

REEs

Rare earth elements

SDS

Sodium dodecyl sulfate

SPE

Solid-phase extraction

SWCNTs

Single-wall carbon nanotubes

TMSPT

3-(Trimethoxysilyl)-1-propantiol

γ-MPTS

γ-Mercaptopropyltrimethoxysilane
Notes
Acknowledgments
Financial support from the National Nature Science Foundation of China (nos 21205090, 21175102, 21375097), Science Fund for Creative Research Groups of NSFC (no. 20921062) and Large-scale Instrument and Equipment Sharing Foundation of Wuhan University are gratefully acknowledged.
Copyright information
© Springer-Verlag Berlin Heidelberg 2015