Comparison of sample preparation methods for the quantitative analysis of eicosanoids and other oxylipins in plasma by means of LC-MS/MS
Abstract
Oxylipins are potent lipid mediators. For the evaluation of their biological roles, several LC-MS based methods have been developed. While these methods are similar, the described sample preparation procedures for the extraction of oxylipins differ considerably. In order to deduce the most appropriate method for the analysis of non-esterified oxylipins in human plasma, we evaluated the performance of seven established sample preparation procedures. Six commonly used solid phase extraction (SPE) and one liquid-liquid extraction (LLE) protocol were compared based on the recovery of 13 added internal standards, extraction efficacy of oxylipins from plasma and reduction of ion-suppressing matrix. Dramatic differences in the performance in all three parameters were found. LLE with ethyl acetate was overall not a sufficient sample preparation strategy. The protocols using Oasis- and StrataX-material insufficiently removed interfering matrix compounds. Extraction efficacy of oxylipins on anion-exchanging BondElut cartridges was low, while removal of matrix was nearly perfect. None of the protocols led to a high extraction efficacy of analytes while removing all interfering matrix components. However, SPE on a C18-material with removal of matrix by water and n-hexane prior elution with methyl formate showed the best performance for the analysis of a broad spectrum of oxylipins in plasma.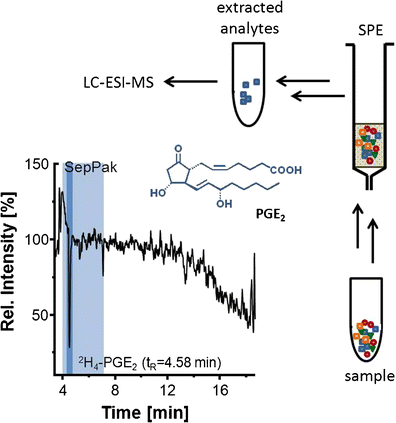 Keywords
Eicosanoids 
Lipidomics 
Liquid-liquid extraction 
Solid phase extraction 
Oxylipins 
LC-MS 
Abbreviations
AA

Arachidonic acid

ACN

Acetonitrile

CID

Collision-induced dissociation

COX

Cyclooxygenase

DHA

Docosahexaenoic acid

DiHDPE

Dihydroxy docosapentaenoic acid

DiHETE

Dihydroxy eicosatetraenoic acid

DiHETrE

Dihydroxy eicosatrienoic acid

DiHODE

Dihydroxy octadecadienoic acid

DiHOME

Dihydroxy octadecenoic acid

EA

Ethyl acetate

EDTA

Ethylenediaminetetraacetic acid

EPA

Eicosapentaenoic acid

EpDPE

Epoxy docosapentaenoic acid

EpETE

Epoxy eicosatetraenoic acid

EpETrE

Epoxy eicosatrienoic acid

EpODE

Epoxy octadecadienoic acid

EpOME

Epoxy octadecenoic acid

ESI

Electrospray ionization

HAc

Acetic acid

HDHA

Hydroxy docosahexaenoic acid

HEPE

Hydroxy eicosapentaenoic acid

HETE

Hydroxy eicosatetraenoic acid

HODE

Hydroxy octadecadienoic acid

HOTrE

Hydroxy octadecatrienoic acid

IS

Internal standard

LC-MS

Liquid chromatography mass spectrometry

LLE

Liquid-liquid extraction

LOD

Limit of detection

LOX

Lipoxygenase

LTB

Leukotriene

LXA

Lipoxin

MeOH

Methanol

oxo-ETE

Oxo eicosatetraenoic acid

PG

Prostaglandin

PUFA

Polyunsaturated fatty acid

RP

Reversed phase

RSD

Relative standard deviation

SD

Standard deviation

SPE

Solid phase extraction

SRM

Selected reaction monitoring

TriHOME

Trihydroxy-ocadecenoic acid

Tx

Thromboxane
Notes
Acknowledgments
This study was supported the Fonds der Chemischen Industrie, a Marie Curie Career Integration Grant (CIG 293536) of the European Union and a Grant of the German Research Foundation (SCHE 1801).
Copyright information
© Springer-Verlag Berlin Heidelberg 2014