Asymmetrical flow field-flow fractionation with multi-angle light scattering and quasi-elastic light scattering for characterization of polymersomes: comparison with classical techniques
Part of the following topical collections:
Abstract
Polymersomes formed from amphiphilic block copolymers, such as poly(ethyleneoxide-b-ε-caprolactone) (PEO-b-PCL) or poly(ethyleneoxide-b-methylmethacrylate), were characterized by asymmetrical flow field-flow fractionation coupled with quasi-elastic light scattering (QELS), multi-angle light scattering (MALS), and refractive index detection, leading to the determination of their size, shape, and molecular weight. The method was cross-examined with more classical ones, like batch dynamic and static light scattering, electron microscopy, and atomic force microscopy. The results show good complementarities between all the techniques; asymmetrical flow field-flow fractionation being the most pertinent one when the sample exhibits several different types of population.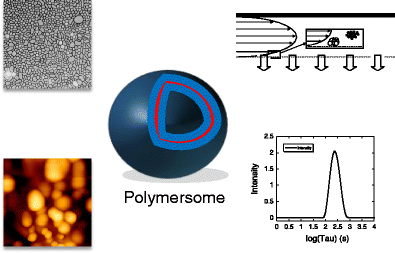 Keywords
Asymmetrical flow field-flow fractionation 
Polymersomes 
Self-assemblies 
Shape 
Molecular weight 
Notes
Acknowledgments
The authors wish to thank the French ANR (ANR COPOPDT), PRES Toulouse and Midi-Pyrénées Region for funding and PhD grant for U. Till. EU (FEDER-35477: Nano-objets pour la biotechnologie) is greatly acknowledged for financial support (AFM instrument). LLB is thanked for beam time access and Annie Brûlet for fruitful discussion.
Copyright information
© Springer-Verlag Berlin Heidelberg 2014