A targeted/non-targeted screening method for perfluoroalkyl carboxylic acids and sulfonates in whole fish using quadrupole time-of-flight mass spectrometry and MSe
Abstract
A new method for measuring perfluoroalkyl contaminants (PFCs) in biological matrices has been developed. An ultra-high pressure liquid chromatograph equipped with a quadrupole time-of-flight mass spectrometer (UPLC-QToF) was optimized using a continuous precursor/product ion monitoring mode. Unlike traditional targeted studies that isolate precursor/product ion pairs, the current method alternates between two ionization energy channels to continuously capture standard electrospray ionization (low energy) and collision induced dissociation (high energy) spectra. The result is the indiscriminant acquisition of paired low and high energy spectra for all constituents eluting from the chromatographic system. This technique was evaluated for the routine analysis of perfluoroalkyl species. Using this technique, linear perfluoroalkyl carboxylic acids (C4 to C14) and perfluoroalkyl sulfonates (C4, C6, C8 and C10) exhibited a linear range spanning over three orders of magnitude and were detectable at levels less than 1 pg on column with a root mean squared signal to noise ratio of 5 to 20. Lake trout (Salvelinus namaycush) and National Institutes of Standards and Technology Standard Reference Material 1946 were used to evaluate matrix effects and the accuracy of this method when applied to a whole fish extract. The current method was also evaluated as a diagnostic tool to identify unknown PFCs using experimental fragmentation patterns, mass defect filtering and Kendrick plots.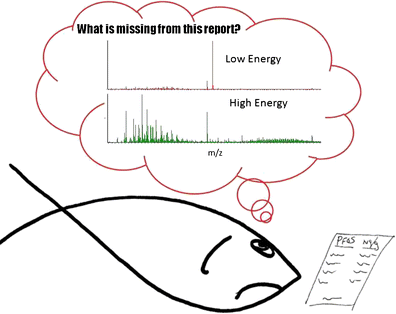 Keywords
PFOS 
QToF 
MSe 
Lake trout 
Perfluorinated sulfonates 
Perfluorinated acids 
Abbreviations
CID

Collision induced dissociation

Da

Dalton

ESI

Electrospray ionization

FWHM

Full width at half maximum

F1

Low energy (no collision energy) scan using MSe mode

F2

High energy (ramped collision energy) scan using MSe mode

FT-ICR MS

Fourier transform ion cyclotron resonance mass spectrometer

GC

Gas chromatography

GLFMSP

Great Lakes Fish Monitoring and Surveillance Program

KMD

Kendrick mass defect

LM

Lake Michigan

MD

Mass defect

MPFBA

Perfluoro-n-[13C4]butanoic acid

MPFDA

Perfluoro-n-[1,2-13C2]decanoic acid

MPFDoA

Perfluoro-n-[1,2-13C2]dodecanoic acid

MPFHxS

Pefluoro-1-hexane[18O2]sulfonate

MPFHxA

Perfluoro-n-[1,2-13C2]hexanoic acid

MPFNA

Perfluoro-n-[1,2,3,4,5-13C5]nonanoic acid

MPFOA

Perfluoro-n-[1,2,3,4-13C4]octanoic acid

MPFOS

Perfluoro-1-[1,2,3,4-13C4]octane sulfonate

MPFUnA

Perfluoro-n-[1,2-13C2] undecanoic acid

MSe

Continuous low/high energy mass spectrometry

MRM

Multiple reaction monitoring

MS/MS

Precursor/product mass spectrometry

NIST

National Institutes of Standards and Technology (USA)

PFAA

Perfluoroalkyl carboxylic acids

PFAS

Perfluoroalkyl sulfonates

PFBA

Perfluoro-n-butanoic acid

PFBS

Perfluoro-n-butanesulfonate

PFDA

Perfluordecanoic acid

PFDoA

Perfluoro-n-dodecanoic acid

PFDS

Perfluoro-n-decane sulfonate

PFHpA

Perfluoro-n-heptanoic acid

PFHpS

Perfluoro-n-heptane sulfonate

PFHxA

Perfluoro-n-hexanoic acid

PFHxS

Perfluoro-n-hexane sulfonate

PFNA

Perfluoro-n-nonanoic acid

PFOA

Perfluoro-n-octanoic acid

PFOS

Perfluoro-n-octane sulfonate

PFPeA

Perfluoro-n-pentanoic acid
Notes
Acknowledgments
The U.S. Environmental Protection Agency Great Lakes Fish Monitoring and Surveillance Program supported this project under contract GL-96594201-1. Also we wish to thank the Program Manager Elizabeth Murphy and many people who assisted in sample collection and processing. Although the research described in this article has been funded wholly or in part by the United States Environmental Protection Agency, it has not been subjected to the Agency's required peer and policy review and therefore, does not necessarily reflect the views of the Agency and no official endorsement should be inferred.
Copyright information
© Springer-Verlag Berlin Heidelberg 2013