Preparation of monodisperse curcumin-imprinted polymer by precipitation polymerization and its application for the extraction of curcuminoids from Curcuma longa L.
Abstract
A monodisperse molecularly imprinted polymer (MIP) for curcumin was first prepared by precipitation polymerization using methacrylamide (MAM) and 4-vinylpyridine as functional co-monomers, divinylbenzene as a crosslinker, and a mixture of acetonitrile and toluene as a porogen. The use of MAM as the co-monomer resulted in the formation of a monodisperse MIP and non-imprinted polymer (NIP). MIP and NIP, respectively, were monodispersed with a narrow particle size distribution (3.3 ± 0.09 and 3.5 ± 0.10 μm). In addition to shape recognition, hydrophobic and hydrogen-bonding interactions affected the retention and molecular-recognition of curcumin on the MIP. The MIP for curcumin could extract curcuminoids (curcumin, demethoxycurcumin, and bisdemethoxycurcumin) in Curcuma longa L.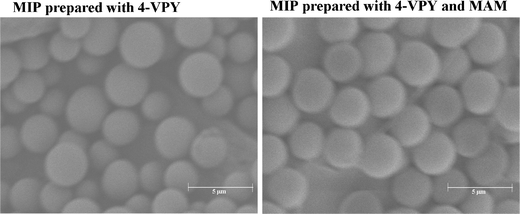 Keywords
Molecularly imprinted polymer 
Precipitation polymerization 
Curcumin 
Demethoxycurcumin 
Bisdemethoxycurcumin 
Notes
Acknowledgments
This work was supported in part by the Grant-in-Aid for Scientific Research (B) (No. 19390013) from Japan Society for the Promotion of Science.
Copyright information
© Springer-Verlag Berlin Heidelberg 2013