Capillary liquid chromatographic fingerprint used for discrimination of Zingiber montanum from related species
Abstract
Fingerprint analysis using capillary liquid chromatography (CLC) has been developed for discrimination of Zingiber montanum (ZM) from related species, for example Z. americans (ZA) and Z. zerumbet (ZZ). By comparing the fingerprint chromatograms of ZM, ZA, and ZZ we could identify ZM samples and discriminate them from ZA and ZZ by using their marker peaks. We also combined CLC fingerprint with multivariate analysis, including principal-component analysis (PCA) and canonical variate analysis (CVA); all three species were discriminated successfully. This result indicates that CLC fingerprint analysis in combination with PCA and CVA can be used for discrimination of ZM samples from samples of related species.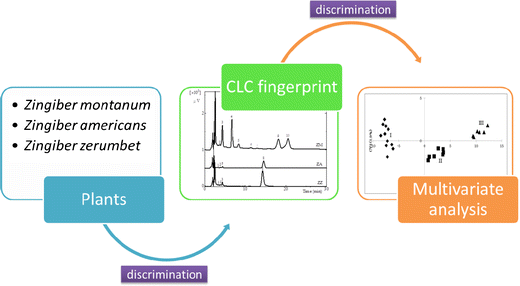 Keywords
Zingiber montanum
Zingiber americans
Zingiber zerumbet
Capillary liquid chromatography 
Fingerprint analysis 
Multivariate analysis 
Notes
Acknowledgements
Mohamad Rafi gratefully acknowledges the Ministry of Education and Culture of the Republic of Indonesia for the PhD scholarship in Gifu University, Japan.
Copyright information
© Springer-Verlag Berlin Heidelberg 2013